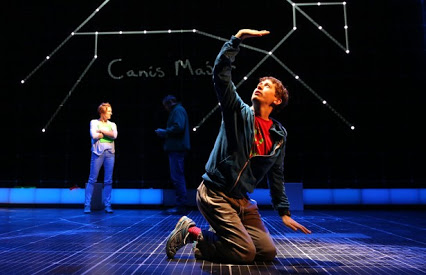 I spent most of last week in New York City, visiting my mother and daughter and seeing four shows — one off-Broadway, three on Broadway shows. Here's my review of one of them.
"The Curious Incident Of The Dog In The Night-Time" is about Christopher Boone, a 15-year-old English boy with Asperger's Syndrome (or something similar along the autism spectrum; the play doesn't explain which) and a penchant for mathematics, who discovers that his neighbor's dog has been killed. He sets out to investigate and we meet his parents, neighbors, teacher, and other characters in Christopher's life.
Christopher is played by Tyler Lea (who had just taken over the role after the departure of Tony winner Alex Sharp the previous day) and his performance is astounding. He's onstage for the entire production, creating a character that's simultaneously endearing and infuriating. And for much of the first act, Christopher is also assembling a model train set over a large expanse of the stage floor, collecting tracks and miniature houses and trees from cabinets built into the walls. I remember from my youth how frustrating it was to put those track pieces together and get the train to run smoothly over them. I can't imagine having to do that while playing the protagonist in a Broadway production, but Lea pulls it off perfectly.
The nine other members of the cast are very good, too. There are several long stretches where they sit off to the side while Christopher interacts with one or more of them, and times when they leave the stage completely. But when they're in the midst of the action in character, or serving as the mechanisms for Christopher's imagination to help him become an astronaut who walks on the walls, or a plane flying above his hometown, or acting as the floor mat he wipes his feet on or the bowl where he places his keys, they serve as a superb support system in furthering the story.
Since "The Curious Incident" won the Tony for Best Play this year, there will probably be productions put on across the country eventually, but they will need to devise a new production design system to make it work as well as it does at the Barrymore Theater. Those walls, and the floor, look like a giant graph on a blackboard that Christopher draws on with chalk. There's also a high-tech projection and lighting system that adds other effects to what is otherwise a minimal set. The effects design is dazzling, as we move from Christopher's home to the neighborhood to a tube station to a train to London. Any attempt I'd make at explaining further wouldn't come close to giving you a sense of how the stage itself becomes a character in the play.
"The Curious Incident," based on the novel by Mark Haddon, is a unique and thoroughly enjoyable theatrical experience.