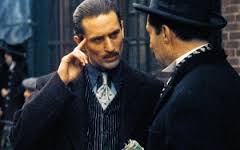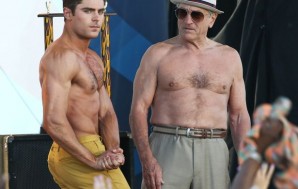 Over the weekend, I watched the "The Godfather Saga," Francis Ford Coppola's combination of the first two films plus scenes that hadn't made the final cut. It traces the Corleone family from 1901 to 1959, and runs seven hours. The "Saga" was edited to run over the course of four nights in 1977 on NBC, when it had to be censored and interrupted by commercials. It didn't air again until 2012 when it ran on AMC, still with commercial breaks. This month, it's airing several times on HBO, where's it's uninterrupted and uncensored. Think of it as binge-watching seven episodes of the best mafia drama ever.
One of the things Coppola did in compiling the "Saga" version of his story is put everything in chronological order. The flashback scenes originally in "Godfather II" now open the story, with Robert DeNiro as the young Vito Corleone. Watching DeNiro, I was fascinated by how differently he attacked the role as a young actor and how intense his work was compared to the kinds of projects he takes on now and too often walks through. It grieves me to see someone with so much talent squander it as he has in recent years.
If you'd told me 25 years ago that Robert DeNiro would get to the point where he makes movies that aren't even released in theaters, I would have laughed in your face. But you don't have to dig very deep into his IMDb listings to find "The Bag Man," "Killing Season," "Freelancers," "Red Lights," "Killer Elite," "The Ages Of Love," and "Machete." He's also made dreck that was projected onto big screens, like "Last Vegas," "The Big Wedding," and "Grudge Match."
By my count, DeNiro has made 25 movies in the last decade. Sure, he's done good work in the David O. Russell movies ("Silver Linings Playbook" and "American Hustle") and Nancy Myers' "The Intern," but he has much more frequently appeared in absolute garbage.
Someone needs to teach this man how to say no, or at least be more selective in the productions he says yes to. DeNiro has always worked regularly, but for almost three decades he rarely went more than a couple of years without a classic:
1973: "Mean Streets" and "Bang The Drum Slowly"
1974: "The Godfather Part II"
1976: "Taxi Driver"
1978: "The Deer Hunter"
1980: "Raging Bull"
1982: "King Of Comedy"
1984: "Once Upon A Time In America"
1987: "The Untouchables"
1988: "Midnight Run"
1990: "Goodfellas" and "Awakenings"
1991: "Guilty By Suspicion" and "Backdraft" and "Cape Fear"
1993: "A Bronx Tale"
1995: "Casino"
1997: "Wag The Dog" and "Jackie Brown"
1999: "Analyze This"
2001: "The Score"
Along the way, there were some flops, but those 21 titles made up for every bad decision over that timespan. Unfortunately, since then — around the time he started making the Fockers movies with Ben Stiller — the quality of DeNiro's projects has been abysmally low. I can't understand why he continues to make them. I doubt he needs the money. I'm sure he wants to keep working, and the roles he's being offered in his seventies aren't as impressive or showy as those he did long ago, but that's even more reason for him to be choosier in the projects he takes on.
It's painful to watch acting legends working in bad movies. I'll never forget grimacing at the great Kirk Douglas and Burt Lancaster making fools of themselves opposite Dana Carvey in "Tough Guys" in 1986. It made me very sad, as it does seeing DeNiro alongside Zac Efron in his latest bomb, "Dirty Grandpa," which scores a whopping 7% positive rating at Rotten Tomatoes.
At this pace and with this ratio of bad to good, DeNiro is effectively doing to his own career what Clemenza did to Carlo in "The Godfather Saga" — choking it to death until it stops kicking.