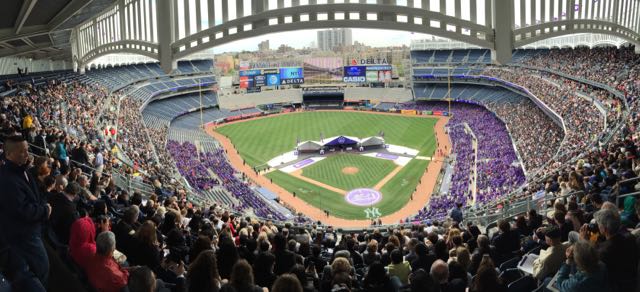 When I was a kid, I saw my first major league baseball game in Yankee Stadium. I saw my first NFL game there, too, because it was the New York Giants' home field.
In 1985, when I was doing mornings for NBC's flagship FM station in New York, one of the women in the Yankees front office was a regular listener who invited me to come to a game. I went with a friend and was shocked between innings to look up and see "The Yankees Welcome Paul Harris Of 97 WYNY!" on the scoreboard.
Each of those events happened in the old House That Ruth Built, but last week I went to the new Yankee Stadium for a much more important ceremony — my daughter's graduation from New York University. Thirty thousand of us filled the seats to watch the pomp and circumstance, the speeches, the honorary degrees for Billy Crystal and Congressman John Lewis, and the excitement of all those new graduates in violet robes.
The next day, we attended the smaller commencement for Gallatin, her school within NYU, at David Geffen Hall — which used to be called Avery Fisher Hall, and before that Philharmonic Hall, where my parents took me to see Leonard Bernstein conduct Young People's Orchestra concerts fifty years ago.
My mind was flooded with circle-of-life thoughts, not just because of my history with the buildings, but because NYU is where my father got his doctorate and my brother got his law degree. Unlike them, however, she's not a native New Yorker — having been born in Virginia and grown up in Missouri — so she's the first in my family to graduate from an out-of-state college.
My wife and I started saving for our daughter's college education almost from the beginning, and it seems like not so long ago that I was driving her around several states looking at universities she might want to attend. For twenty years, starting in pre-school, we've been very involved with all aspects of her education, because we know how important it is to her future. Now, our jobs are mostly done, and we have to sit back and see what path she follows.
I'm still coming to terms with it, but I certainly couldn't be prouder of what she's accomplished and the smart, independent woman she's become. I can't wait to see what she'll do next as she fills in her own circle of life.