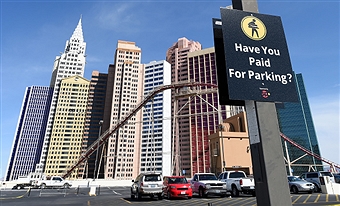 In June, I wrote about MGM/Mirage beginning to charge for parking at its properties on the Las Vegas Strip (Bellagio, Aria, Mirage, etc), regardless of whether you park your own car or turn it over to a valet:

That's going to kill business for the rental car companies and the valet parking guys, who have been making a good living for a long time at many of the big Strip properties. I know many people who used to tip two or three dollars, but with the $18 charge, they're pissed off and more likely to tip just a buck, so in the end, the corporation makes more, but the little guy running around in the garage takes home less.

I used to rent a car often when I visited Vegas because it turned out to be cheaper than taking taxis everywhere. But with Lyft (and Uber) making it less expensive to move from place to place, and most of my poker action at Bellagio or Aria — and no desire to pay those parking fees — I see no reason to have a rental car in Vegas any more.
I predicted at the time that other Vegas casino companies would probably follow suit and, sure enough, Caesars Entertainment has just announced it will do the same starting next month at 8 of its 9 Vegas venues (The Rio is the exception).
Why are they doing this? Because you're not gambling enough in Las Vegas anymore. The truth is that, with casinos all over the country, you don't have to go all the way to Nevada to play blackjack, slots, or poker. So when tourists go there — and they still do, in droves — they spend their time and money doing other things instead of gambling (eating, going to shows, riding the ferris wheel, walking up and down the strip).
With the casinos no longer the huge revenue-generators they once were, the property owners had to devise other ways to squeeze dollars out of your pocket. Thus the mandatory "resort fee" which covers wi-fi in your room, the hotel pool and gym, and other things you may not use but will still find added to your bill "for your convenience."
That's also why there haven't been cheap buffets or meals anyplace on the strip for several years. They figure if they can't get you at the tables where you gamble, they'll get you at the tables where you eat.
And now, in the parking spots, too.