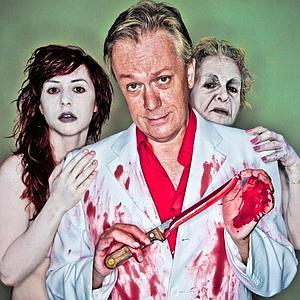 I spent the last few days visiting my mother on Long Island and going into Manhattan to see a couple of one-man shows — Todd Robbins in "Play Dead" and Colin Quinn in "Long Story Short."
I've written about Robbins before. At Players Theater in Greenwich Village, he combines his abilities as a magician, sideshow performer, and monologist to create a show about death that's both amazing and funny. There are others who help him create the illusions, many of which take place in the dark — completely pitch black because even the exit signs have been turned off — and audience members are brought onstage to participate, get bloody, receive messages from lost loved ones, and be killed. "Play Dead" was directed by Teller, who helped devise some of the trickery Robbins uses to amuse, amaze, and scare the crap out of his witnesses.
Some of what Robbins does has a direct link to Harry Houdini, who also used his skills as a conjurer to expose and denounce those who use death to exploit people's emotions. So it was perfect timing that, hours earlier, we went to the Jewish Museum to see its Houdini exhibit, which does a good job of telling the story of the greatest magician and escape artist of all time. The audio tour is narrated by Neil Patrick Harris, and included commentary by David Blaine and James "The Amazing" Randi. You can hear it without traveling to New York by downloading the audio and video from iTunes.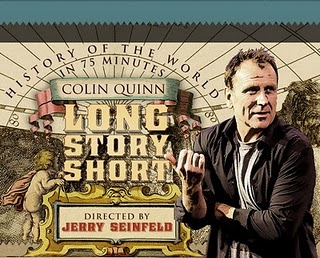 Quinn's show, at the Helen Hayes Theatre, is a 75-minute standup routine that traces the history of society from the Greek empire to the Roman empire to the Egyptian empire to the British empire to the American empire, with nods to the Incas, Aztecs, and Mayans, plus stops along the way in France, Spain, Africa, and South America. Quinn has always been a very clever writer and comedian. In "Long Story Short," he assumes that his audience came to the theater with some knowledge of world history, and plays with that accumulated information to create some truly funny scenarios.
There are sequences in the show that have a distinctly Seinfeld-ian rhythm, partly because Colin and Jerry have been friends for a very long time, and partly because the show was directed by Seinfeld, who no doubt offered a few lines and pretexts. In the end, though, it's all Quinn onstage, and he delivers nicely.
Incidentally, the Helen Hayes Theatre is a perfect venue for a show like this. At just under 600 seats, everyone's close enough that the laughter is communal, and the performer can establish a real rapport with the audience. That's why it worked well in the mid-90s as home to Rob Becker's "Defending The Caveman," which holds the record for longest-running one-man-show in Broadway history.