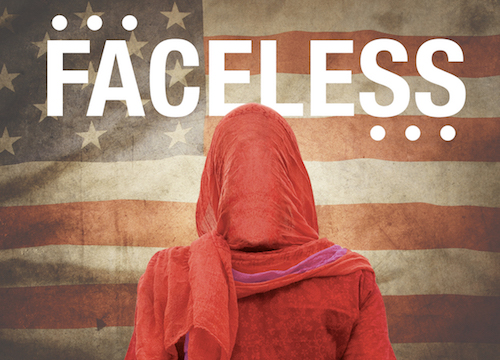 This is why we go to the theater. My wife and I saw a remarkable production last night.
"Faceless" is about Susie Glenn (Lindsay Stock), an 18-year-old white woman from the suburbs of Chicago, who has been arrested for conspiring to commit acts of terrorism. After being recruited online by ISIS, she was on her way to Turkey, and then Syria, to meet the man who had seduced her from afar to join the terrorist group. But before she boarded the plane, federal authorities grabbed her and threw her in a cell.
"Faceless" is also about Claire Fathi (Susaan Jamshidi), a Harvard-educated attorney in her thirties who works for the federal prosecutor who's been assigned Susie's case. Claire, the daughter of a French mother and an Iranian father, is Islamic and knows her faith well enough to recognize that Susie, a recent convert, has been sold a bill of goods by her jihadist recruiter, Reza. Susie's been wearing a hijab for four months; Claire has worn it all her life. Claire originally resists being forced into this prosecution by her boss, Scott Bader (Michael James Reed), the by-the-book US attorney who is obviously using her as a counter-point to the accused. But once she agrees, she's ferocious.
The internal battles of both Claire and Susie, a teenager so desperate to be understood and accepted, are at the heart of the drama as it moves from the courtroom to the media circus surrounding the case, from Susie at a computer meeting her recruiter via Twitter and Facebook to the strategy sessions in the prosecutor's office. We also meet Susie's father, Alan (Joe Dempsey) — a blue-collar man desperate to save his daughter despite her attempts to push away from him — and the attorney he's hired to represent her, Mark Arenberg (Ross Lehman).
Four of the five actors in this production of "Faceless" originated their roles at the Northlight Theatre in Chicago, where it debuted last year (only Reed was not in the original cast). They don't just play these vivid characters, they inhabit them. The dialogue is crisp and smart, the direction and set design perfect (director BJ Jones and the Northlight design team recreated the set, lighting, and sound here).
"Faceless" was written by 22-year-old Selina Fillinger, a recent graduate of Northwestern University. Not that much older than Susie, she knows her attitude well, but also nails Claire's voice — and those of the men, too. Her terrific script reminded me of "The Invisible Hand" by Ayah Akhtar, which we saw produced here a few years ago. I look forward to seeing what Fillinger comes up with next.
"Faceless" will be in the Studio Theatre at the Rep in St. Louis through February 4th. I heartily recommend you go see it.