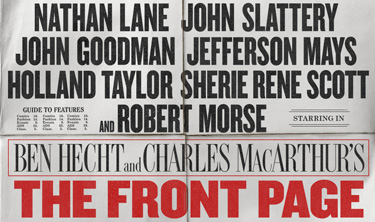 Ben Hecht and Charles MacArthur's "The Front Page" is one of the most beloved scripts of the 20th century, and a remarkable group of talented people have performed it. It was a hit in its first incarnation 88 years ago, directed by George S. Kaufman and produced by Howard Hughes. It has been revived five times. It was also turned into a 1931 movie starring Adolphe Menjou and Pat O'Brien, then remade into a fast-talking gender comedy as "His Girl Friday" with Cary Grant and Rosalind Russell directed by Howard Hawks in 1940, then back into its original form with a Billy Wilder version starring Walter Matthau and Jack Lemmon in 1974.
Now it's back on Broadway, and while my wife and I were visiting my daughter this weekend, we managed to score three tickets to what is already the hottest show in town because of its all-star cast: Nathan Lane, John Slattery, John Goodman, Jefferson Mays, Holland Taylor, and Robert Morse. Those are the big names, but the character actors who fill the supporting roles are impressive, too, including Lewis J. Stadlen, Christopher Macdonald, Dann Florek, Dylan Baker, Halley Feiffer, and Sherie Rene Scott. Aside from the last two, you'd probably recognize any of them as soon as you saw them.
"The Front Page" takes place in an era when newspapers were king, when most big cities each had half a dozen dailies, and they competed with each other for every tabloid-ish story they could cover. Here's the Wikipedia summary of the plot:

The play's single set is the dingy Press Room of Chicago's Criminal Courts Building, overlooking the gallows behind the Cook County Jail. Reporters from most of the city's newspapers are passing the time with poker and pungent wisecracks about the news of the day. Soon they'll witness the hanging of Earl Williams, a white man and (supposed) Communist revolutionary convicted of killing a black policeman. Hildy Johnson, cocky star reporter for the Examiner, is late. He appears only to say good-bye; he's quitting to get a respectable job and be married. Suddenly the reporters hear that Earl Williams has escaped from the jail. All but Hildy stampede out for more information. As Hildy tries to decide how to react Williams comes in through the window. He tells Hildy he's no revolutionary and shot the police officer by accident. The reporter realizes this bewildered, harmless little man was railroaded — just to help the crooked mayor and sheriff pick up enough black votes to win re-election. It's the story of a lifetime. Hildy helps Williams hide inside a roll-top desk. His daunting challenge now is to get Williams out of the building to a safe place for an interview before rival reporters or trigger-happy policemen discover him. The Examiner managing editor, Walter Burns, is a devious tyrant who would do just about anything to keep Hildy with the paper. Nevertheless, Hildy has no choice but to ask for his help.
Slattery plays Hildy, and it's a little odd seeing him in this role after he was part of the great ensemble in "Spotlight," last year's Oscar-winning movie about newspaper journalists. And there's an unintended laugh when Hildy announces that he's quitting reporting to move to New York for a job at an advertising agency — yes, he's off to become one of the "Mad Men." But Slattery handles it all very well and is more than up to the part.
In any other production, he'd have top billing, but Nathan Lane is the King Of Broadway and, even though his Walter Burns doesn't appear until late in the second act (of three), he's the one many theatergoers want to see on stage. In fact, there's a moment in the middle of the play, when Lane has yet to make his entrance, that Jefferson Mays (Tony-winner for playing multiple characters in "A Gentleman's Guide To Love And Murder") re-enters the newsroom unexpectedly, and several audience members applauded thinking it was Lane finally getting on stage. Once Lane does appear, it's essentially a two-man show — he and Slattery engage in the kind of rapid-fire dialogue you'd normally see in a British farce, complete with door slamming and other physical shtick. Their timing is impeccable.
Goodman plays Sheriff Hartman as a gravel-voiced buffoon who's always at odds with the newspapermen. Goodman looks to have lost quite a bit of weight for the role, but he can still throw it around on stage and hold his own. He's particularly good in an extended scene with "Law and Order" veteran Florek as the Mayor of Chicago — two dumb politicians plotting Williams' execution to advance their own careers with election day approaching.
As a stage play, "The Front Page" has always been a little bit too long at 2 hours 45 minutes. A lot of the setup in Act One could be done away with — there's too much time spent with the other newspapermen before Hildy Johnson shows up. The movie versions (particularly "His Girl Friday") are a lot tighter, but director Jack O'Brien has everyone working at a crackling pace, and the special effects of shattered glass and gunshots ringing around the newsroom during one key scene were very well done.
This was only the fourth preview night for this production, which will officially open on October 20th, so there were a few slip-ups, but they were barely noticeable with a cast this extraordinary. All of us who left the theater Friday night walked away happy, as will anyone lucky enough to get seats for the guaranteed-to-be-sold-out limited run of this American classic.