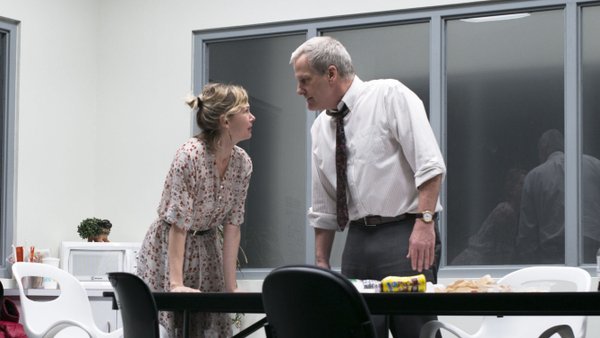 I spent last week in New York, visiting my mother and daughter and taking in a couple of Broadway shows that could not be more dissimilar — a stunning drama and an out-and-out musical farce.
The drama was David Harrower's "Blackbird," starring Jeff Daniels and Michelle Williams. It's the story of a woman in her mid-20s, Una, who shows up to confront Ray, the now fifty-something man who had sex with her when she was 12. Since then, he's done prison time for the crime, changed his name, and started a new life. When Una re-appears at his place of work, Ray is freaked out as he ushers her into the lunchroom, away from his colleagues, to find out what she wants.
Over the next 90 minutes, Daniels and Williams give intensely powerful performances that leave them — and us — emotionally exhausted. Daniels is terrific as Ray — he played the role in its off-Broadway premiere in 2007 — but it's Williams that blew me away. In a soliloquy about two-thirds of the way through, as Una remembers the night she spent with Ray in an out-of-the-way motel and the sequence of events that followed, Williams stands still and — with a subtle lighting change by director Joe Mantello — gives a master class in acting as Daniels sits, unmoving, watching her.
That's one of the reasons I go to live theater, for moments like that, for performances that drain everything the actor has and stories that you can't look away from. I had the same feeling walking out of the Belasco Theater that I had at the end of the movie "Room," which could almost serve as a prequel to "Blackbird."
Afterwards, a woman in the row ahead of me commented, "I have no idea how they can do that 8 times a week." Neither do I. I also can't imagine the challenge for the next actors to take on Una and Ray. They'll have an impossible task in matching what Jeff Daniels and Michelle Williams are doing.
The other show was "Something Rotten," a musical that's not nearly as intense, but still wonderful. Brian D'Arcy James (a Broadway veteran who was also one of the reporters in the Oscar-winning "Spotlight") plays Nick Bottom, an English playwright who is William Shakespeare's rival in 1595 London. When he and his brother Nigel (John Cariani) can't come up with a great new play, Nick finds a soothsayer (Brad Oscar) who can look into the future and see the details of both Shakespeare's biggest play and what will be successful on stage many years from now — musicals.
From there on, it's a parody of all things theatrical, with name-dropping and references to some of the most famous shows of all time — along with a love story, an uptight religious figure, and lots of singing and dancing. It's clever as hell, without a weak moment from start to finish.
In the same vein as "Spamalot" and "The Producers" (both of which Brad Oscar appeared in, and both of which lovingly poked fun at their Broadway predecessors), "Something Rotten" is destined to become one of the most-produced crowd-pleasing shows across the country. Its national tour will begin in 2017 (it's already booked for the Fox Theatre in St. Louis for February).
Here's an abridged version of the show's big number, with visual cues as to which other musicals "Something Rotten" winks at…