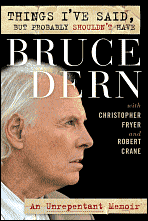 Bruce Dern has made a career out of being one of the all-time movie bad guys, and we had a great time talking about some of those roles today on my show.
He told stories about having to shoot John Wayne in "The Cowboys," getting advice from a Vietnam Vet on playing his role in "Coming Home," being directed by and learning from Alfred Hitchcock in "Family Plot," and more. I also asked him how uncomfortable he was seeing his daughter, Laura Dern, in explicit love scenes like those in "Wild At Heart."
Listen, then click here to subscribe to these podcasts via iTunes!