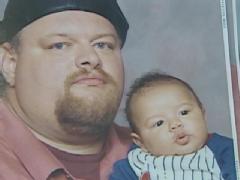 Finally, some good news for Gary Stocklaufer. He's the Missouri man who was told his weight (560+ lbs) was an obstacle to his adopting Baby Max, his cousin's son. With the state's family services department deciding that he was too fat for fatherhood, a judge not only ruled against him, but initially denied him a new hearing.
On my show today, Gary happily announced that the judge has changed his mind and agreed to a new hearing on November 29th, because circumstances have changed — Gary had gastric bypass surgery and has lost 100 pounds already. He also has a new attorney who knows what he's doing.
But there's more. Gary explained that they've uncovered a money angle behind the state's decisions. Turns out there's federal money that goes to the state adoption agency if it places Baby Max with someone else (under the Adoption and Safe Families Act of 1997, which set state incentives for increasing adoption). In other words, Missouri will get thousands of dollars if it denies Gary the right to adopt his own blood relative!
How's that for having the system stacked against you? Makes me wonder whether the weight issue is just a bogus excuse being used by DFS.
Listen, then click here to subscribe to these podcasts via iTunes!