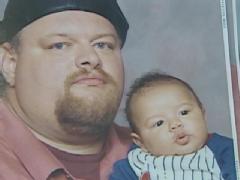 Four weeks ago on my show, I talked with Gary Stocklaufer, who was not allowed to adopt Baby Max because Gary weighed over 500 pounds — despite the fact that Max is Gary's cousin.
The baby's mother couldn't take care of Max, so Gary and his wife Cindy (who are already foster parents for Bobby, who is now 8 years old) took him in and filed the paperwork to legally adopt the infant. That's when a judge took Max away from them.
Today, Gary was back for an update. He has lost 83 pounds, and last Friday underwent gastric bypass surgery that will help him lose another 100 pounds by the end of September, and a total of 225-250 pounds in the next year. So, if his weight is the only obstacle the state agencies cite as the reason to deny Gary's adoption of Max, they will no longer have that excuse.
But Gary and his wife Cindy still can't catch a break — the judge won't grant him a new hearing and Baby Max's guardian ad litem has filed motions blocking his adoptive efforts. All of this is not only draining pounds from Gary's body, but bucks from his bank account, too.
Listen, then click here to subscribe to these podcasts via iTunes!