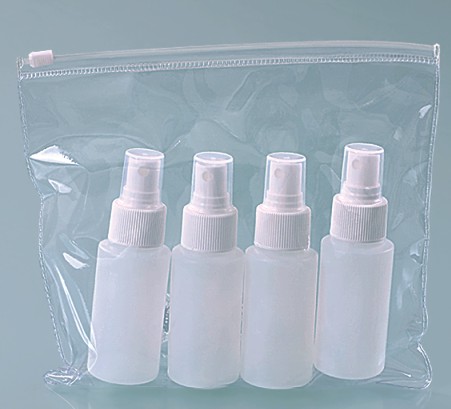 TSA chief John Pistole has announced that, beginning April 25th, you'll be able to carry your pocket knife when you board a plane instead of leaving it in your checked luggage, as long as the blade isn't longer than a couple of inches. Flight attendants and air marshals have been very vocal about their opposition to the change in the policy.
Even if you are allowed to take your Swiss Army Knife to your seat, they'd better not catch you trying to get past security with more than 3 ounces of a liquid or you'll be taken in the back and strip-searched. The TSA's liquids-and-gels restriction has been in effect for over six years, despite no proof that anyone could construct a bomb onboard with larger quantities.
It is a ridiculous policy. For proof, I offer up our recent trip to the Bahamas.
My wife was very diligent about picking up a couple of bottles of sunscreen for us, but because they were super-sized containers (she hasn't had a sunburn since she was 11), I reminded her we couldn't put them in our carry-ons. She said we'd just check the bags, but since we couldn't fly non-stop from St. Louis to Nassau and had to change planes in Charlotte, I didn't want to risk not having the bags change planes, too. No one wants to begin a trip by finding out their luggage has gone somewhere else on its own vacation.
She complained that if we waited until we got there to buy sunscreen, the resort would charge us $20 a bottle. I countered that the airline was going to charge us $25 to check each bag and urged her to take several travel-size bottles instead.
She couldn't find multiple bottles of sunscreen in the under-three-ounce size, but did find a package of four little empty plastic bottles. She then squeezed the lotion from the big bottles into the small bottles, then put those into a ziplock bag (to prevent them from spilling their goo all over our clothing and other carry-on items if they somehow opened along the way).
At the airport security checkpoint, no one raised an eyebrow. Thus, we were able to carry exactly the same amount of liquid onto the plane in these unlabeled clear bottles as if it had all been in a single container.
I'm sure no terrorist chemist would think of such a devious plan.