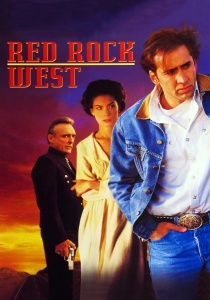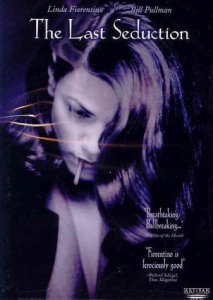 I have just added two movies to my
Movies You Might Not Know
list, both directed by John Dahl. He has mostly worked in TV for the last decade, but he was also responsible for "Rounders," the 1998 movie that kick-started the poker boom.
A few years before that, he wrote and directed "Red Rock West," the movie that put him on the map.
It stars Nicolas Cage as a guy trying to get a job on an oil rig in Wyoming. When that falls through, he ends up in a small town bar, where he is mistaken by the owner (JT Walsh) for a Texas hitman he's hired to come up and kill his wife (Lara Flynn Boyle). Cage plays along because he needs the money, but instead of offing Boyle, he tells her about the plan and says he won't go through with it if she'll pay him off, too. That's when the real hitman (Dennis Hopper) arrives in town, and the fun begins.
Dahl directed "Red Rock West" with a sardonic eye, and the performances are all perfect.
A year later, Dahl made "The Last Seduction," the movie that made everyone sit up and take notice of Linda Fiorentino (you may remember her from the morgue scenes in "Men In Black"). In "The Last Seduction," she plays a woman who's pure evil.
The adventure starts when her husband (Bill Pullman) comes into several hundred thousand dollars. While he's in the shower, she grabs the money and gets out of New York, headed for Chicago. Along the way, she stops in a small town and calls her lawyer. He advises her not to go to Chicago, because that's the first place her husband will look for her. Instead, he tells her to lay low wherever she is. She does, but has no interest in the small-towners until she hooks up with a local guy (Peter Berg) who has never met a woman as brash as she is. Before long, Fiorentino is wrapping him around her little finger — and other body parts — better than Barbara Stanwyck in "Double Indemnity."
In both of these movies, Dahl displayed a wonderful feel for the drama in out-of-the-way places, and the tension in people trapped by circumstances beyond their control.