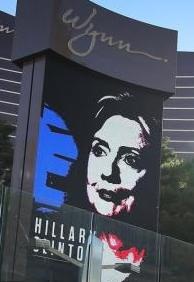 I was in Las Vegas this weekend, playing poker, betting on NFL games, and having some good meals.
Monday morning, while walking to The Peppermill (my favorite spot for breakfast in that town), I passed CNN's setup in front of The Wynn, the site of tonight's debate among the Democrats who want to be present. The big sign in front of the casino was advertising the event, and I laughed at the display, which made it clear this is a two-person race.
There was a big illustration of Hillary Clinton, which was followed by a big illustration of Bernie Sanders, which was followed by a list — with no illustration — of the other trio of candidates who will be there (Jim Webb, Lincoln Chaffee, Martin O'Malley). In fact, while I found the two photos above on Google Images this morning, I can't find a single picture of the board that mentions the also-rans. It'll be interesting to see if any of those three will make enough of an impression to get their faces on the signs for the next debate, let along some attention from the general public and the media.