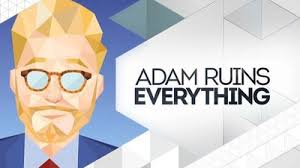 I have become a big fan of "Adam Ruins Everything," the TruTV series hosted by Adam Conover. As a skeptic, I'm happy to have another show in the tradition of Penn and Teller's "Bullshit" and Adam Savage and Jamie Hyneman's "Mythbusters." On his show, Adam debunks nonsense about everyday issues like weddings, job salaries, voting, football, malls, eyeglasses, and housing.
I have been binge-watching season one, and am looking forward to his Election Special on October 25th). When I finally got Adam on my show, we talked about:
how this election year may seem to be the strangest ever, but there are plenty of stories from past presidential elections to rival it;
how he's had some of my heroes as guests, including Elizabeth Loftus (on the unreliability of eyewitness testimony) and Bruce Schneier (on the TSA's "security theater");
which segment of his show has gotten the biggest reception from viewers;
which topics he'll tackle in the new season.
Listen, then click here to subscribe to these podcasts via iTunes!
You can catch "Adam Ruins Everything" Tuesdays at 9pm CT on TruTV, with each episode repeated during the week. You can find old episodes on the show's website and clips on YouTube. There's also an "Adam Ruins Everything" podcast.