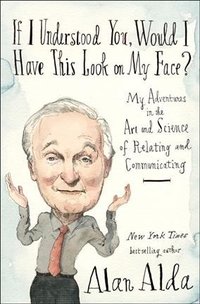 Here's my conversation with Alan Alda, who you may know from his 11 years on "M*A*S*H," or his 11 years on "Scientific American Frontiers," or his movies "The Seduction of Joe Tynan" and "Sweet Liberty," or his Oscar-nominated role in "The Aviator." He now runs the Alan Alda Center For Communicating Science at Stony Brook University, and writes about that experience in his new book, "If I Understood You, Would I Have This Look On My Face?"
Among the questions I asked him:

When did you discover that scientists were having trouble communicating?
When you started the Center, were scientists reticent to play theater games?
What do you mean when you say in the book that you made a mistake by being too over-prepared on the early episodes of "Scientific American Frontiers"?
You write about using visual cues to help you listen in a conversation — does doing this via phone make it harder?
Why is it important to training doctors to have more empathy?
Did helping scientists improvise to communicate better help you as an actor?
Are any of the scientists you've worked with good enough at improvising to go to Second City?
What is The Flame Challenge?
We also talked about why Alda hasn't directed a movie since 1990, a writer's revenge on "M*A*S*H," and his relationship with George Plimpton while making "Paper Lion" in 1968.
Listen, then click here to subscribe to these podcasts via iTunes!