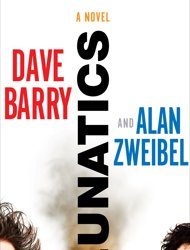 Alan Zweibel and Dave Barry have pretty good resumes when it comes to comedy. From "SNL" to "Curb Your Enthusiasm" to 22 years of humor columns and several dozen books, they've done just fine on their own. Now, they've teamed up to write the comic novel, "Lunatics," about two men whose disagreement over a kids' soccer game turns into a personal battle that escalates way out of control.
Alan and Dave joined me on my radio show today to talk about the book, why they decided to team up, how the writing partnership worked, and whether it's true that Steve Carrell wants to star in the movie version. We also discussed some of their other projects, including the Broadway version of "Peter and the Starcatchers" (Dave co-wrote those books with Ridley Pearson) and the Showtime series "Inside Comedy" (which Alan helped produce for David Steinberg).
Listen to our conversation here.
Previously on HarrisOnline.com…
In my introduction of Alan, I mentioned that he is the only author who's been allowed to read part of his book out loud on David Letterman's show. The book was "The Other Shulman," which came out in 2007. Not long after, I had Alan on the air to talk about the book and that historic TV appearance, which was as funny as any standup comedy spot. You can listen to that conversation — and see video of his Letterman appearance — here.
Just so Dave doesn't feel left out, here's a link to the last time he was on the air with me (and Ridley) talking about "The Bridge To Never Land."