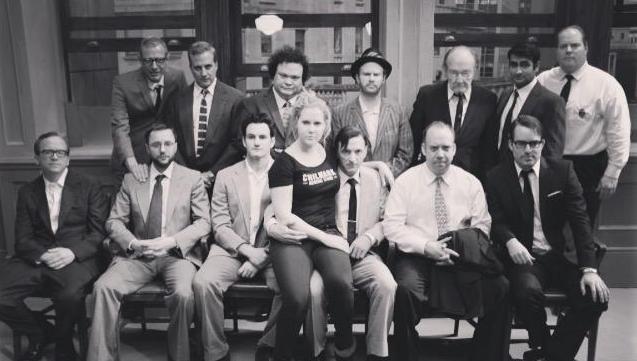 I wasn't much of an Amy Schumer fan until last fall, when I was visiting my daughter in New York and we went to the Comedy Cellar (the club seen in the opening credits of Louis CK's FX show "Louie") for a Saturday night show. There were five performers scheduled, and the only one we'd heard of was Judah Friedlander of "30 Rock." But in clubs like that, more well-known comedians will drop in occasionally to get onstage and do 10-15 minutes of new material they're working on.
Halfway through, the emcee surprised the crowd by introducing Amy, who said she was a few days away from appearing on Letterman and wanted to try some stuff she might do on his show. She was very personable, self-deprecating, a total pro onstage, and very funny. The crowd gave her a great response and, when she did the TV spot the next week, her material went over just as well with Dave and his audience.
Before that, having only seen one of her cable stand-up specials, I'd had the same problem with Schumer that I've had with Sarah Silverman. They're both witty and clever, but their reliance on raunch-shock material turned me off. It had nothing to do with their gender — I'd hold up Paula Poundstone and Kathleen Madigan on any modern list of Best Comics — but Amy's and Sarah's jokes about their vaginas were no more amusing to me than a male comic doing dick jokes. Plenty of people like that stuff. I don't.
Still, after the Comedy Cellar experience, I vowed that I would give Schumer's Comedy Central show, "Inside Amy Schumer," a shot when its new season began — and wow, am I glad I did. In her season opener a couple of weeks ago, she did a "Friday Night Lights" parody with Josh Charles that served as a brilliant commentary on sports' rape culture. The bit she did with Tina Fey, Julia Louis-Dreyfus, and Patricia Arquette about when female stars lose their sexual appeal was even better.
Her piece de resistance was last night's "12 Angry Men" parody, which took up the entire show, with an all-male jury deciding whether Amy is hot enough to remain on TV. It's yet another example of how Schumer has become the best feminist voice in comedy, and she does it while barely appearing in the pieces, allowing her co-stars to shine — in this case, Paul Giamatti, Jeff Goldblum, John Hawkes, Dennis Quaid, Vincent Kartheiser ("Mad Men"), Kumail Nanjiani ("Silicon Valley"), and Nick DiPaolo.
Schumer is confident enough to stay behind the scenes as writer/director and let them carry the load while their characters say terrible, often funny, things about her. She also was able to convince Comedy Central to let her parody a movie most of its target demographic hasn't seen — though they should — even to the point of shooting it in black-and-white and recreating some of Sidney Lumet's shots from the 1957 original (which starred Henry Fonda, Lee J. Cobb, Jack Klugman, Martin Balsam, Robert Webber, Jack Warden, John Fiedler, and Ed Begley).
In a conversation with Alan Sepinwall, Schumer says her "12 Angry Men" parody "was really hard work, and I think that it's special. I'm more proud of it than anything I've ever done." She should be. Amy and her colleagues are creating the best sketch comedy television has seen for a very long time. Yes, it's still raunchy, but there's so much depth there, too. I'm glad that night in Greenwich Village opened my eyes to her talent and turned me into an Amy Schumer fan.