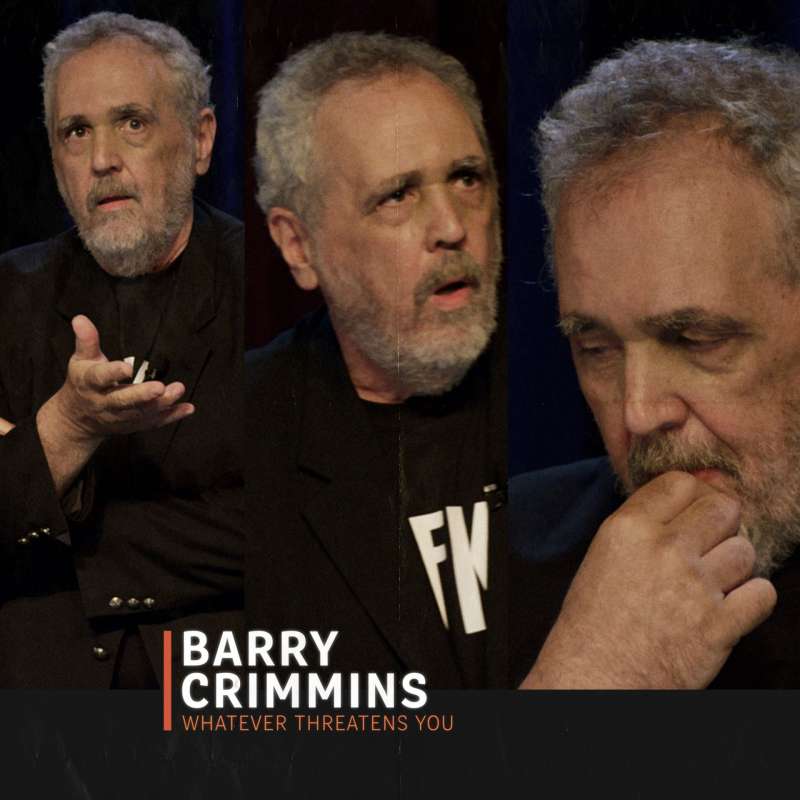 Barry Crimmins' name came up during my August conversation with Bobcat Goldthwait (which has become the most-downloaded audio on this site this year) because Bobcat directed a documentary, "Call Me Lucky," which revealed Barry's activism as a survivor of a pedophile priest. It also chronicled Barry's life as a standup comedian, which he's done for more than four decades.
When I lived in Hartford in the early eighties, I went to Boston fairly regularly, and saw Crimmins on stage often, along with Kevin Meaney, Steven Wright, Lenny Clarke, Denis Leary, Jimmy Tingle, and others who worked the comedy clubs in that era. Later, I had the pleasure of having many of them on my radio shows, and they always killed. I also remember a 1988 album of political comedy called "Strange Bedfellows" with sets from Crimmins, Tingle, Will Durst, and Randy Credico. It's long out of print, but they were all top-notch.
Now Barry has his first-ever TV special, thanks to Louis CK, who started doing comedy in Boston and looked up to Barry as one of the veterans who knew the scene because he ran a club in a Chinese restaurant called the Ding Ho, where he served as mentor to a generation of comedians. In an email Louis sent last night to promote Barry's special, he wrote:


Barry Crimmins was like the godfather of the whole thing. He was an intense, dark man with a full beard and glaring eyes. He was like a bear. Like a genius animal raised in the wilderness, who was educated at Oxford. He smoked cigars and drank beer and growled about Ronald Reagan. I was TERRIFIED of Barry when I was a new young comic. The general sense that was palpable when Barry was at a club, was that all these great comics looked to him. That he set the bar for creativity. There was a standard in Boston. You had to be original. You had to have an idea. You had to be creative. You had to write. That came from Barry Crimmins.

Because without Barry, as great as the comedy was in Boston, it largely followed the character of the city itself. There was a lusty, drunk, bitter energy to every show. A lot of comics would go on stage and tell stories about getting drunk and talk about the local sports teams and about getting laid. All worthy subjects. And the drunk crowds would laugh heartily, often shout back at the stage. There was a dangerous energy to every show and you always had a feeling that if you didn't get laughs, you might get the shit beat out of you after a show. Comedians even fought each other. It was a rowdy scene. But when Barry went on stage, people listened. Every comedian in the room would face the stage and watch him and listen. He was brilliant and compelling and he was "fuckin' Smaht". And he gave a bit of that to everyone else. He was also funny as hell. His jokes were sharp. He had a wicked fast ball, like Dennis Eckersly. He would explain the truth of a global situation and lay the groundwork through a quick education of the human condition and then ignite the atmosphere with a crackling joke. You'd laugh and say "Oh my god." As a new idea would explode in your mind along with the laugh from your body.

Later in life I became good friends with Steven Wright, who is also very close to Barry. Steven told me a lot about the Ding Ho, where he started. He told me how scared he was to be a comedian, at the same time as he wanted to be one. There was so much about it that ran against his personal nature (which is part of why he's great to watch) and how all the comedians at the Ding Ho, including Barry, taught him and encouraged him. My experience starting out was the same and that idea of teaching, mentoring and passing down a creative tradition, was fostered by Barry.
Louis goes on about being part of that scene, and his friendship with Kevin Meaney, who died Friday. He also explains why he agreed to direct Barry's special, "Whatever Threatens You," which is available for download from the Louis CK website for $5.
I just paid for, downloaded, and watched Barry's special, and I'm glad I did. He touches briefly on his own life, but dedicates most of it to this year's presidential election (he's no fan of either candidate) and the general political environment in America today. He's still as sharp and angry and incisive and funny as ever. I strongly recommend it.