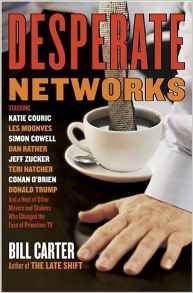 Here's my conversation with Bill Carter, who covers the TV beat for the NY Times, about his new book, "Desperate Networks."
He explained how hard it was for "American Idol" to get on the air — it was turned down by all the networks (twice by ABC) before Rupert Murdoch finally ordered Fox to put it on. We also talked about how Nicolette Sheridan's audition was so bad she almost didn't get the job on "Desperate Housewives," how "Lost" got on the air despite network tinkering, and how the internet has become another distribution channel for network content.
I asked Bill for his opinion on whether ABC will move "Grey's Anatomy" to another night, whether NBC has any shows that look like they can turn the fourth-place network around, and how Aaron Sorkin and Tina Fey can both be developing new series about what it's like behind-the-scenes at a show like "Saturday Night Live."
Since Carter was responsible for "The Late Shift," which documented the Leno vs. Letterman battle for Johnny Carson's desk (which was made into a memorable HBO movie), we talked about Leno handing "The Tonight Show" to Conan O'Brien in three years — and whether David Letterman will break Johnny Carson's thirty-year late night television record.
Listen, then click here to subscribe to these podcasts via iTunes!