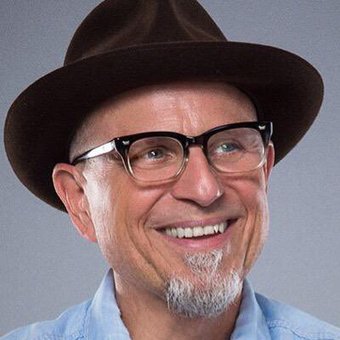 The first time I saw Bobcat Goldthwait onstage was 30 years ago, when he was taking a shower in front of 10,000 people at the Universal Amphitheater in LA during the first Comic Relief show. The last time I saw him was a couple of years ago at the Funny Bone comedy club in Valley Park, Missouri. In between, he's appeared in a bunch of movies, directed several more, and directed some TV shows including Dave Chappelle's show, "Jimmy Kimmel Live," and Mark Maron's show on IFC. He's also done voice work for a ton of animated projects and video games. Now he's back in St. Louis to work at the Funny Bone here at Westport this weekend, so I asked him to stop by and spend some time in our studio.
Goldthwait long ago left behind the screaming character he did onstage and in the "Police Academy" movies, but we touched on lots of other topics (in his own voice), including:
Why he did that shower bit at Comic Relief;
His 2015 documentary "Call Me Lucky" about Barry Crimmins, the comedian, comedy mentor, and activist survivor of pedophile priest abuse;
"God Bless America," Goldthwait's very funny 2011 movie starring Joel Murray as a terminally ill man so fed up with idiots that he goes around shooting them;
His early days doing standup in Boston, with a peer group that included Paula Poundstone, Steven Wright, and Denis Leary;
What's it's like to be a comedian directing TV shows for other comedians;
A classic story involving the lead singer of Nickelback's nose;
His close friendship with Robin Williams, who committed suicide 2 years ago this week;
His new TruTV series, "Bobcat Goldthwait's Messed Up Stories."
Listen, then click here to subscribe to these podcasts via iTunes!