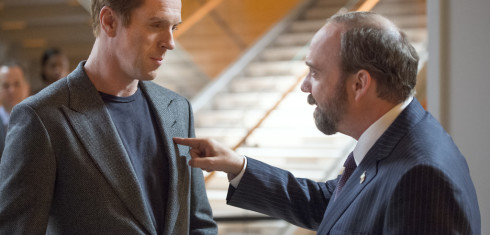 Brian Koppelman and David Levien were responsible for "Rounders," "Ocean's 13," and "Runaway Jury." Now they have a new Showtime series, "Billions," which debuts Sunday night on Showtime (you can watch the season premiere for free here). It stars Paul Giamatti as a US Attorney and Damien Lewis as the billionaire hedge-fund manager he's trying to take down.
I've seen the first six episodes and liked it enough to ask Koppelman to join me on the air and discuss:

How did you get your two leading men?
Did Giamatti know that he'd have to do scenes tied and bound by a dominatrix?
Is it hard to get actors to do nudity today?
How much was the show influenced by "The Wolf Of Wall Street" and "The Big Short"?
What was the genesis of a scene in an early episode in which Giamatti references "Butch Cassidy and the Sundance Kid"?
Was it difficult moving from 2-hour big screen movies to a 12-hour primetime series?
How do you maintain a consistent vision when you're using different directors for each episode?
Will there ever be a "Rounders 2"?
Listen, then click here to subscribe to these podcasts via iTunes!