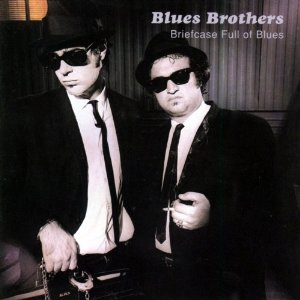 This morning, I decided to digitize a few more albums from my vinyl collection. So, I dragged the ION USB turntable out of the closet and grabbed a record at random — the Blues Brothers' "Briefcase Full of Blues." Because the recording has to be done in real time, I'm sitting here listening to it and remembering how good it sounded the first time I heard it in 1978.
John Belushi and Dan Aykroyd started the Jake-and-Elwood concept as a lark, but by the time they opened for Steve Martin at the Universal Amphitheatre, they had created a pretty damned good blues act. The reason they sounded so good was the band, which included some of the best studio musicians of all time, such as Stax veterans Steve Cropper and Duck Dunn, plus a horn section made up of Tom Scott, Lou Marini, Alan Rubin, and Tom Malone (who still plays trombone on Letterman's show). With a hot young drummer named Steve Jordan and Paul Shaffer as the musical director who put it all together (not to mention that Aykroyd played a mean blues harmonica), the Blues Brothers Band was tight and hot.
The other thing I'd forgotten was the choice of songs. While "Soul Man," "Rubber Biscuit," and "Hey Bartender" got lots of radio airplay, there were a half-dozen other solid blues tunes on the record, too, from "Messin' With The Kid" to "Shotgun Blues" to "Almost." Belushi pulled them off because of the musical pros surrounding him.
My contact with the Blues Brothers came in April, 1979, when I went to an Allman Brothers concert at the Palladium in New York with my friend Jay Rosen. Delbert McClinton opened the show, and when I mentioned that the Blues Brothers had done McClinton's "B Movie Box Car Blues" on their album, Jay speculated on the chances of Belushi and/or Aykroyd making a surprise appearance. McClinton did a great set, but no guests appeared. After a break, the Allmans hit the stage and ripped the place up for a couple of hours. When they returned for an encore, McClinton was with them and, hey, it's Belushi!!! Naturally, the place went berserk. They tore into "Hey Bartender," with Belushi swapping his Blues Brothers hat for Dickey Betts' white cowboy hat halfway through. When they finished, no one wanted to go home, but the stage cleared, the house lights came up, and it was over.
Unfortunately, Hollywood can't help but ruin good concepts by running them into the ground. Thus the "Blues Brothers" movie, which barely had a script and was only saved by cameos by Ray Charles, Aretha Franklin, and Cab Calloway. Even worse were Jim Belushi stepping into replace John after his death for a new Blues Brothers tour, and then the "Blues Brothers 2000" movie with Aykroyd and John Goodman (!). There's even a rumor that Akyroyd and John's widow have been shopping a Blues Brothers TV series, because they apparently haven't beaten the horse completely to death.
But today, listening to the album again for the first time in probably 20 years, it's good to know that there was something real in that briefcase full of blues.