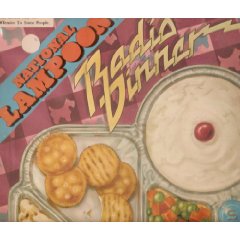 In 1972, National Lampoon released a comedy album called Radio Dinner. Most of it was from the mind of Christopher Guest, Michael O'Donaghue, and Tony Hendra, with songs sung by Melissa Manchester, and appearances by legendary voiceover gods Norman Rose and Jackson Beck, too.
One of the bits was "Catch It and You Keep It," a game show parody in which contestants got to keep valuable prizes — from electric knives to a dinette set to a house — if they could catch them when thrown off the top of a skyscraper in Manhattan.
Someone has uploaded the long-out-of-print vinyl "Radio Dinner" album to the Internet Archive and made it available as streaming audio. I don't know how long it will remain available, but "Catch It and You Keep It" appears about 7 minutes into side one.
Thirty-seven years later, what was once satire is now reality. Discovery's Science Channel has a show called "Catch It Keep It," in which contestants can win valuable prizes by saving them as they fall from great heights, are hurled across a parking lot, or are about to catch on fire or explode.
I haven't seen the show because Science Channel is not among those I subscribe to on Dish Network, but this promo video sets up the premise pretty well…