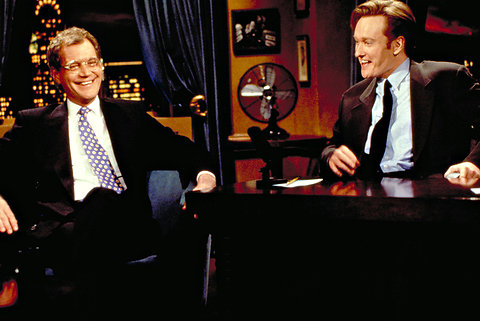 As I wrote recently, when people praise David Letterman as he approaches his final "Late Show," they rarely mention anything he's done in this century — it's always about the way he revolutionized television comedy on NBC in the 1980s. Here's another one of those, from Conan O'Brien, on the day he discovered Letterman's morning show:

The guy didn't look right. His hair resembled an ill-fitting vintage leather motorcycle helmet. His front teeth had a massive gap that looked almost painted-on as a joke. He was wearing the requisite broadcaster's tie, but khaki pants and Adidas sneakers. His set looked wrong, as if he had thrown it together minutes before the show—strange photos of dogs decorated the wall behind him. And then there was his manner. His smile was not ingratiating, but mischievous and ever so slightly malevolent. He was not comfortable in his own skin at a time when everyone on television, by definition, was comfortable in their own skin. And on top of it all, he was doing a comedy show in the morning. What the hell? Who does a comedy show in the morning? What's wrong with this guy? Who let this happen?

Like every comedian of my era, I watched Dave's subversive, untamed morning show with delightful incredulity. The show didn't last long, but quickly morphed into his late night program—and then Dave was really off to the races. Throughout college, everyone my age watched Dave and discussed his show the next day. The late night talk show had existed at that point for 30 years in more or less one form, but Dave and his writers completely re-invented the format.