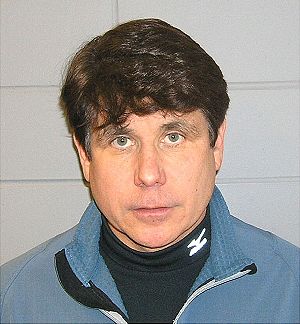 Judge James Zaget listened to Rod Blagojevich plead for leniency yesterday, then slapped him with a 14-year prison sentence for corruption and other charges. Blagojevich's statement, in which he finally admitted guilt and accepted responsibility, was a big 180 from the public entreaties he'd made in the previous three years, a period in which he not only maintained his innocence and mocked his accusers, but also got more publicity than he deserved. It was also a period in which shameful decisions were made by media executives who happily exploited Blagojevich's infamy and portrayed him in a positive light instead of as the criminal he is.
WLS, a Chicago talk radio station I worked for in 2008 and 2009, proudly wrapped its arms around the disgraced governor. He appeared regularly on the Don and Roma morning show, not just to discuss his own case, but to comment on items in the news or joke around about other things. No one gave the impression that he'd done anything wrong. To the contrary, he was treated as if he were a victim. WLS liked the loudmouth-with-perfect-hair so much they gave him his own weekly Sunday show on which he could spout off about whatever he liked, and he used that megaphone to blast his accusers and attack his enemies.
This was after he'd been indicted by US Attorney Patrick Fitzgerald and then impeached and removed from office by the state legislature. The man may have been a disgrace to his state — another in a too-long line of disreputable Illinois governors — but that didn't keep the radio station's management from embracing him as their guy. When I filled in for Don and Roma, I had to play along even though it made me very uneasy knowing I had to use kid gloves every time I talked to him. On my Saturday morning show, I avoided the topic entirely because treating him that way made my stomach turn.
Then there's NBC, which furthered the exploitation via its reality shows. The network wanted Rod on "I'm A Celebrity, Get Me Out Of Here," but to Judge Zagel's credit, so Patti Blagojevich went instead. But a year later, Rod was allowed to do "The Apprentice," where uber-weasel Donald Trump praised his courage — because he admires people who game the system to enrich themselves, apparently. Again, everyone treated Blago as if he'd done nothing wrong.
It wasn't just broadcasters who wanted a piece of the action. Blagojevich got a book deal, which led to a book tour. He signed autographs at a comic book convention. He appeared at rallies and parties and anywhere he'd be perceived as a good guy, not a corrupt lowlife.
All this for the man who, while in office, received the lowest approval ratings in three decades from the public he screwed. But out of office, he got the highest approval ratings from everyone who could make a buck off of him.