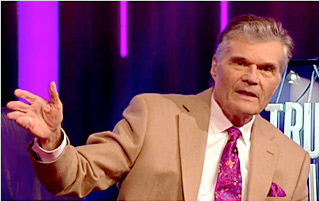 ABC announced yesterday it's pulling the improv show "Trust Us With Your Life" off the air immediately, and some media outlets are claiming it's because of the recent legal difficulties of Fred Willard, the show's host. I doubt it. The more likely reason is that the ratings weren't very good.
The show was another excuse for the "Whose Line Is It Anyway?" crew to do a half-hour of improv skits in primetime, a concept that was worn out when Drew Carey imported the show from England and insisted on having three of the same performers return each week as regulars. Colin Mochrie, Ryan Stiles, and Wayne Brady are all very funny, but the show developed a formulaic sameness that their talents couldn't overcome. The UK version had a rotating cast of improvisers, and though some of them appeared quite often (including Stiles and Mochrie, as well as Josie Lawrence, Stephen Fry, Tony Slattery, Mike McShane, Greg Proops, and Brad Sherwood), the show was kept fresh by the different interactions, and by its dry-as-a-bone host Clive Anderson. That version of the show ran for 10 seasons in England and was exposed to American audiences via Comedy Central, but hasn't been seen here for many years, unfortunately, leaving the show's legacy for most American viewers in the hands of the Carey-led version that was burned out by ABC for 8 seasons.
The irony of blaming the failure of "TYWYL" on Willard is that he was mis-cast as the show's host. His reputation is as one of the all-time great improvisational comedians (from "Fernwood 2Night" to "Best In Show"), but as host, he was never given the opportunity to use those skills. Instead, he was tasked with interviewing celebrities to extract funny stories from their lives, which were then used as the basis for an improvised scene by the other cast members. It was clear the guests had been pre-interviewed within an inch of their lives, so all Willard had to do was ask them pre-scripted questions, act surprised at the pre-arranged answers, and then introduce the others.
You don't hire Fred Willard to do that. You hire Drew Carey, or Clive Anderson. Blaming Fred for the show's failure is like crediting Ryan Seacrest for an athlete winning gold at the Olympics.