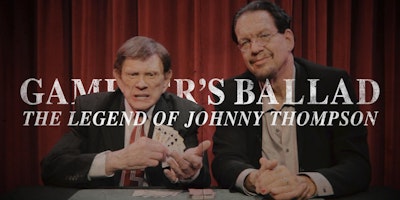 This month, Showtime is airing a documentary about Johnny Thompson, one of the most famous magicians of his time. He performed (with wife Pam) as The Great Tomsoni for many years, and then became a mentor for other magicians who needed help devising illusions, figuring out how to make a trick better, or merely sharing stories about other magic legends like Dai Vernon. For at least a couple of decades, Johnny has worked with Penn and Teller on pretty much every new bit they've developed for their Las Vegas show, and is the prime consultant/judge on their TV series "Fool Us."
The documentary is named "Gambler's Ballad," after a poem-cum-card-trick that Johnny used to do as the closer of his performances, showing off some remarkable close-up work with a deck of cards. A few years ago, Penn learned both the words and maneuvers required to master the "Gambler's Ballad," and decided to perform it a few times as a duet with Johnny. Now you have two masters of sleight-of-hand not only telling a compelling story, but also handling the same deck of cards. It's a beautiful piece of work and a perfect close to the movie.
Before that, you hear from other magic luminaries (including David Copperfield, James Randi, Mac King, Jamy Ian Swiss, Amazing Johnathan, and yes, Teller) discussing Johnny's impact on both the art and science of magic, and see other video of him at work. The movie, directed by Emery Emery, runs about 40 minutes and will air at various times throughout April on Showtime Extreme and Showtime 2 — check your guide and set your DVR.
Speaking of Penn and Teller, if you missed their "April Fool Us" special on Sunday (as I did), you can watch the streaming version on the CW website. In it, they show some of the magicians who have fooled them over the first four seasons of the show, along with some behind-the-scenes info on what they thought was going on when it wasn't. Their fifth season won't air until this summer, but this is a nice reminder of how great it can be to see illusionists at the top of their game.