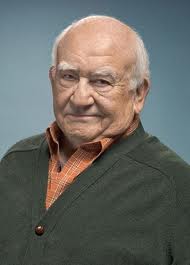 I was saddened to hear of the death this weekend of Ed Asner at 91. I hope the cause of death wasn't spunk.
That's a joke that only works if you saw the first episode of "The Mary Tyler Moore Show," in which he co-starred as Lou Grant, news director of WJM-TV. When Mary comes in for to interview for a job in his newsroom, she's taken aback by some of the forthright questions he asks. When she stands up for herself, Grant tells her, "You know what? You've got spunk!" As she begins to offer an aw-shucks response, he cuts her off by blurting out, "I hate spunk!"
Thus began Asner's long run as the irascible character he played for 7 seasons on the sitcom, then several more on his spinoff, "Lou Grant." Along the way he won 7 Emmy awards and was nominated for 13 more, making him the most honored male performer in Emmy history and the first to win for playing the same role in both a comedy and a drama.
An entirely different generation knows Asner as Carl Fredericksen in the Pixar movie "Up," or as Santa in "Elf," or dozens of other movies and TV shows from his decades-long career.
Several years ago, when Asner was touring with his one-man FDR show, he came on my radio show to promote it, as well as an episode of the TBS sitcom, "Men At Work," he appeared in that week. We talked about his guest roles, a couple of westerns he appeared in many years ago ("El Dorado" and "Skin Game"), and his work in animated TV shows and video games, too.
I always admired Asner, and not just for his acting abiity. He was an outspoken proponent of progressive causes and two-time president of the Screen Actors Guild, although he also endorsed some 9/11 conspiracy nonsense. Nonetheless, he was a pleasure to spend time with.
I have dug into my archives so you can listen to our conversation from February 15, 2014.