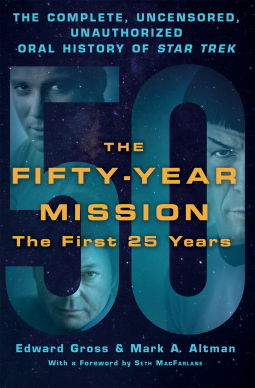 Here's my conversation with Ed Gross, co-author (with Mark Altman) of "The Fifty Year Mission: The Complete, Uncensored, Unauthorized Oral History of Star Trek." It's a two-part project, starting with a volume covering the first 25 years, so that's what we talked about, including:
Why is "Star Trek" still a thing a half-century later?
What was it like when you attended the first "Star Trek" convention?
Did JJ Abrams save the franchise with his movie reboots?
What's the next movie, "Star Trek Beyond," about?
How is Lucille Ball responsible for "Star Trek" getting made?
Does anyone involved in the original show look back at it as cheesy?
Is it true Gene Roddenberry was given less money each year to make the show?
What was the off-screen relationship between William Shatner and Leonard Nimoy?
When they killed Spock at the end of "Wrath Of Khan," did they have a plan for "The Search for Spock"?
Was "The Voyage Home" the most successful of the original movies because it had a sense of humor?
Listen, then click here to subscribe to these podcasts via iTunes!