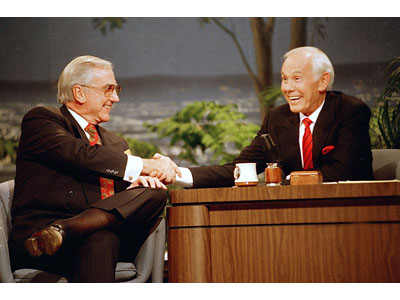 With the news that TV legend Ed McMahon died a few hours ago, I dug into my archives to find an extended interview I did with him on April 5, 2000.
Ed was a money-in-the-bank guest who made many appearances on my radio show over the years, and always came through with an upbeat attitude and terrific anecdotes. This was my favorite conversation with him, because it was the first time we were in the studio together. He was passing through St. Louis as part of his national tour for NextBigStar.com, which was an attempt to replicate the success of "Star Search" as an online-only show. After discussing that, we touched on several other subjects.
We talked about one of the key skills that made him such a great second banana — how he knew when to jump in and help Johnny Carson (or whoever he was working with) and when to sit back and stay out of the way. He remembered the night Carson took him aside after the show and said ominously, "I know what you're doing out there."
We also discussed two parts of his life that were not on television. McMahon was very proud of being a Marine Colonel — once a Marine, always a Marine — so I got him talking about his role in World War II, teaching fighter pilots how to land their six-ton planes on aircraft carriers at sea. And since Ed was one of the greatest pitchmen ever, I asked if he could recall the spiel he had perfected on the Atlantic City boardwalk half a century before to sell the Morris Metric Slicer. He remembered it verbatim.
Listen, then click here to subscribe to these podcasts via iTunes!