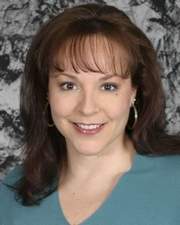 It's not easy for women in talk radio. While many do the news or traffic, very few of them are successful as hosts of their own show. My friend Francene Cucinello was one of the rare ones.
For six and a half years, she hosted one of the most popular radio shows in Louisville, Kentucky, helping WHAS remain the top-rated station in that town. Unfortunately, that run came to an end yesterday.
Francene was pronounced dead Friday at 3:15pm ET. She was just 43. She'd been hospitalized early Monday with what was originally thought to be pneumonia. Then she suffered a heart attack in the hospital, followed by a collapsed lung, and then a brain aneurysm. After all that, her body just couldn't fight any more.
I had filled in for her on WHAS all week, as I have many times, and it was tough doing her show each of these days knowing that she wasn't doing well in the hospital. But I knew how important her show was to her and to the community that had embraced her since 2003.
Earlier in her broadcasting career, Francene was a TV news reporter in Baltimore, Washington, and Nashville. It was in Tennessee that she became friendly with a morning radio guy named Darryl Ankarlo who encouraged her to call in and contribute whenever she wanted. Eventually, she was hired to be the news anchor and sidekick on his show, and when he was hired at KTRS/St. Louis, he suggested they bring her along. For a number of reasons, the show didn't click on KTRS and Darryl was let go, but Francene stayed on.
I was doing the midday show at the time, and we'd become friends. One day she came to me for advice on hosting a talk show by herself, something she'd never done before. I explained some of the basics of the business, from developing topics that listeners would want to talk with her about to which kinds of guests she could start with. And I told her the most important quality a successful radio talk show host has: passion. You have to be so compelled by whatever you're discussing that you force the listener to be interested.
It only took halfway through her first weekend show to realize that she got it. I knew she would never be anyone's sidekick ever again. While other women were afraid of being considered too aggressive or opinionated, Francene understood that she had to stand her ground and be herself on the air. Her intelligence, wit, endless curiosity, and sense of humor were all strong enough to knock back any criticism — and her confidence showed.
She kept at it on a parttime basis until she moved back to Charlotte, North Carolina, to be closer to her mother. She was soon hired by that town's big talk station, WBT, and made such an impression that it didn't take long for executives at Clear Channel to take notice of her. They offered her the 9am-Noon show at WHAS/Louisville, and while she hated having to leave her mother alone, I told her to take the job and make the best of it.
She did, and the show worked because Francene understood passion. I don't mean that in any kind of romantic way, but in the way that she dug into her work. If she didn't know enough about a subject, she buried herself in research before presenting it on the air. If she still didn't understand it but thought it was important enough for her audience to know, she'd bring on an expert to explain it. That was her reporter's instinct. If a public figure was out of line, she never hesitated to take him or her to task for it. Politicians appeared on her show regularly, knowing that she would be fair, but wouldn't take any crap or let them get away with anything.
Several months ago, Francene decided she'd heard enough about the increase in unemployment due to the recession and decided to do something about it. She turned her show that Friday into a radio want ad, where employers called in and talked about available jobs that her listeners could apply for. The phones lit up immediately, and stayed lit. She did it again the next Friday, and the next, and by the end of the year, she had helped 500 unemployed people find new fulltime jobs.
Francene had passion off the air, too. She loved the horse races at Churchill Downs, particularly the Kentucky Derby — and not just because it meant buying a bright new broad-rimmed hat every year. In 2009, she got a huge thrill from talking up Rachel Alexandra, the filly that won the Kentucky Oaks and then stunned the sports world by winning the Preakness. Francene was often seen in the stands rooting on the Louisville Bats minor league baseball team, and worked tirelessly raising money for charities around town. Somehow, she also found time to spend her weekends in Cincinnati as a reporter for WXIX-TV, appear as a pundit on Fox Business Channel, and write a weekly column for LEO, Louisville's alternative newspaper.
In her last LEO column, published Wednesday, Francene revealed that she'd been asked by a prominent local Democrat to consider running for Congress against incumbent John Yarmuth. She considered it, even though she considered herself a liberal Republican. She spent long hours thinking through what it would take, what her chances might be, where the campaign money might come from, what skeletons from her past might be dug up, etc. In the end, she wrote, "Ultimately, I decided I didn't want the job enough to pursue it with the relentlessness a successful campaign would require. But never say never. In two years, I might very well change my mind."
To give you an idea how gutsy Francene was, she even called Yarmuth to ask what he thought of her possibly running against him. He told me Friday morning on her WHAS show that he was surprised to discover that people in his own party were looking for another candidate, but since he'd appeared on the air with her so often, he wasn't shocked that it was Francene and that she had turned to him for advice.
One of the reasons she passed on the electoral opportunity was because she loved her radio show, and her audience loved her, making her one of the most-listened to personalities in the entire state. When I filled in for her, I knew that her audience was always primed to join the conversation because she had trained them to participate day in and day out.
We talked on a regular basis. Francene would call for advice about how to handle a topic on the air, or tell me some crazy story about her personal life. She would thank me for mentoring her, and I would tell her how proud I was to see her become so successful.
Francene's sudden death leaves a void in Louisville, both on and off the air. There will be a memorial service for her on Monday morning. Thousands of her listeners will be there, as will the top political leaders in town. It will be a celebration of her life.
I hope they're as passionate about her as she was about everything.