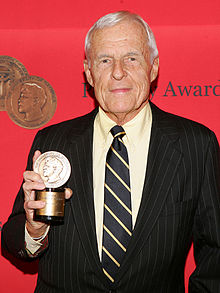 Legendary television executive Grant Tinker, who has died at 90, may have been responsible for ushering more great shows onto the air than anyone else.
In the 1970s, he ran MTM Enterprises, which produced "The Mary Tyler Moore Show" (and its spinoffs, "Rhoda," "Phyllis," and "Lou Grant"), "The Bob Newhart Show," "WKRP In Cincinnati," "Hill Street Blues," "St. Elsewhere." While chairman of NBC in the 1980s — along with programming genius Brandon Tartikoff — Tinker not only saved the network but put it in first place in both the ratings and the Emmys with "The Cosby Show," "Cheers," "Taxi," "Miami Vice," "Golden Girls," and "Family Ties."
In an appreciation of Tinker, Ken Levine writes:

For me his greatest achievement was how much of a mensch he was. As a leader he was kind, thoughtful, smart, and treated everyone with respect. His philosophy was to hire the best people (like Allan Burns and James L. Brooks for "The Mary Tyler Moore Show") and let them do their thing. Instead of injecting his own creative input (i.e. "notes") he took on the role of protector – standing up for his writers against the networks, shielding them from unwanted interference. There's no one like that today. Not even close.

MTM was Camelot for writers in the '70s. It's where all TV writers wanted to work. When David Isaacs and I were starting out, MTM was our brass ring.
Not everything Tinker did was a smash hit. In 1988, my wife and I both worked on the nationally-syndicated "USA Today: The TV Show," which was co-produced by Gannett and Tinker's company. It had four anchors (one for each color-coded section of the newspaper): Edie Magnus, Bill Macatee, Robin Young, and Boyd Matson. It was a ratings disaster that had the disadvantage of terrible time slots in major markets — and was downgraded from there. Towards the end, we joked that it was nothing more than "USA Today: The TV Guide Listing."
I don't know how much direct involvement Tinker had in that project, but I bet he didn't include it on his work history. It was merely a minor smudge on an otherwise sterling career. By the way, it's not on our resumes, either.