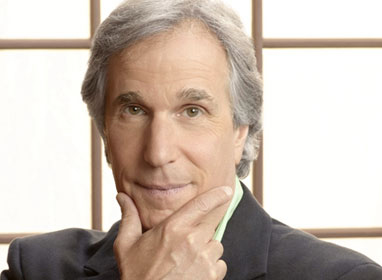 Henry Winkler spent ten years as The Fonz on "Happy Days," and hasn't stopped working since. He's done movies with Adam Sandler, produced shows like "McGyver" and "Hollywood Squares," and still does a lot of acting. He'll appear on an upcoming episode of "Parks and Recreation" and has regular roles on USA's "Royal Pains," and on "Children's Hospital," which is part of the Adult Swim block on the Cartoon Network.
He has also appeared on my radio show many times over the years, and is always so easy to talk to, so I was happy to have him on America Weekend to discuss his current projects, and:

what it's like to join an ensemble show that's already up and running;
why it's different shooting a single-camera comedy vs. a multi-camera sitcom with a studio audience
whether Netflix has ordered another season of "Arrested Development";
about his involvement in a "Happy Days" musical being developed in London.
Listen, then click here to subscribe to these podcasts via iTunes!
Previously on Harris Online…