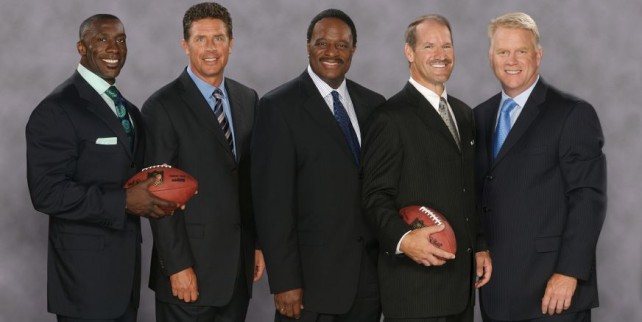 James Brown is a very good sportscaster, a success for over 20 years, who not only handles the formatics of hosting the NFL coverage on CBS, but knows how to keep things moving as he describes highlights. Yet for some reason, the higher-ups at CBS Sports decided that rather than having JB handle those duties, he would just be the hand-off man while Dan Marino, Bill Cowher, Shannon Sharpe, and Boomer Esiason turned into the recap men.
That's not what they're there for. They're all pretty good as analysts, but they're not broadcasters, and they always stumble somewhere along the way, leaving Brown to play the role of safety net and traffic cop. It's a poor use of his abilities.
This leads to the awkward handoff that occurs every time they go to an in-game highlight, such as when Greg Gumbel pauses his play-by-play of a live game to throw it to New York for a clip from another game, only to have JB take it and toss it to one of his studio-mates. That's too many people involved in a replay that only takes about 10 seconds. And it's no better in the halftime show, when each of the four ex-jocks take turns reading the copy prepared by some associate producer (the staffer who's actually been watching the plays as they happen) as the various game highlights are aired.
The blame probably falls at the feet of the rival NFL show on Fox, where Brown used to work. Once he left and Curt Menafee took his place in the host chair, the highlights packages were handed to Terry Bradshaw to bungle in his inimitable style because he's the top banana. I'm sure that the agents for the Dan-Bill-Shannon-Boomer foursome saw that and made the case that CBS should use their guys more, and so JB's role has been diminished.
That's a shame because, as he proves on Showtime's "Inside The NFL," he's a total pro and a generous host, more than happy to set up his colleagues, but he's having the rug pulled out from under him by the other big men with big egos.