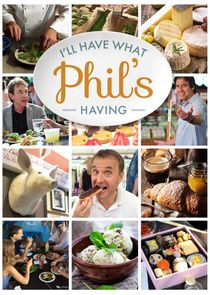 Phil Rosenthal was the showrunner on "Everybody Loves Raymond" for its entire run, but in the decade since it ended, he hasn't done a new TV series — until now. Here's my conversation with him about his new PBS food/travel show, "I'll Have What Phil's Having," which debuts Monday night.
We discussed his trip to Tokyo (episode 1), in which all his senses were overwhelmed and he even ate eel, as well as taught a family how to make an egg cream. We also talked about how much each of us loved eating in Italy (as he does in the second episode), including how to tell good gelato from bad. And Phil explained why, of all the cities in the world, he chose to visit restaurants in the city he lives in, Los Angeles (with friends Allison Janney, Ray Romano, Martin Short, Larry Wilmore, and Norman Lear).
I've seen the first two episodes via press screeners, enjoyed them a lot, and look forward to more — and hope he'll eventually do an episode in St. Louis so I can introduce him to frozen custard, toasted ravioli, and the best barbecue he's ever had. Listen, then click here to subscribe to these podcasts via iTunes!
Previously on Harris Online…