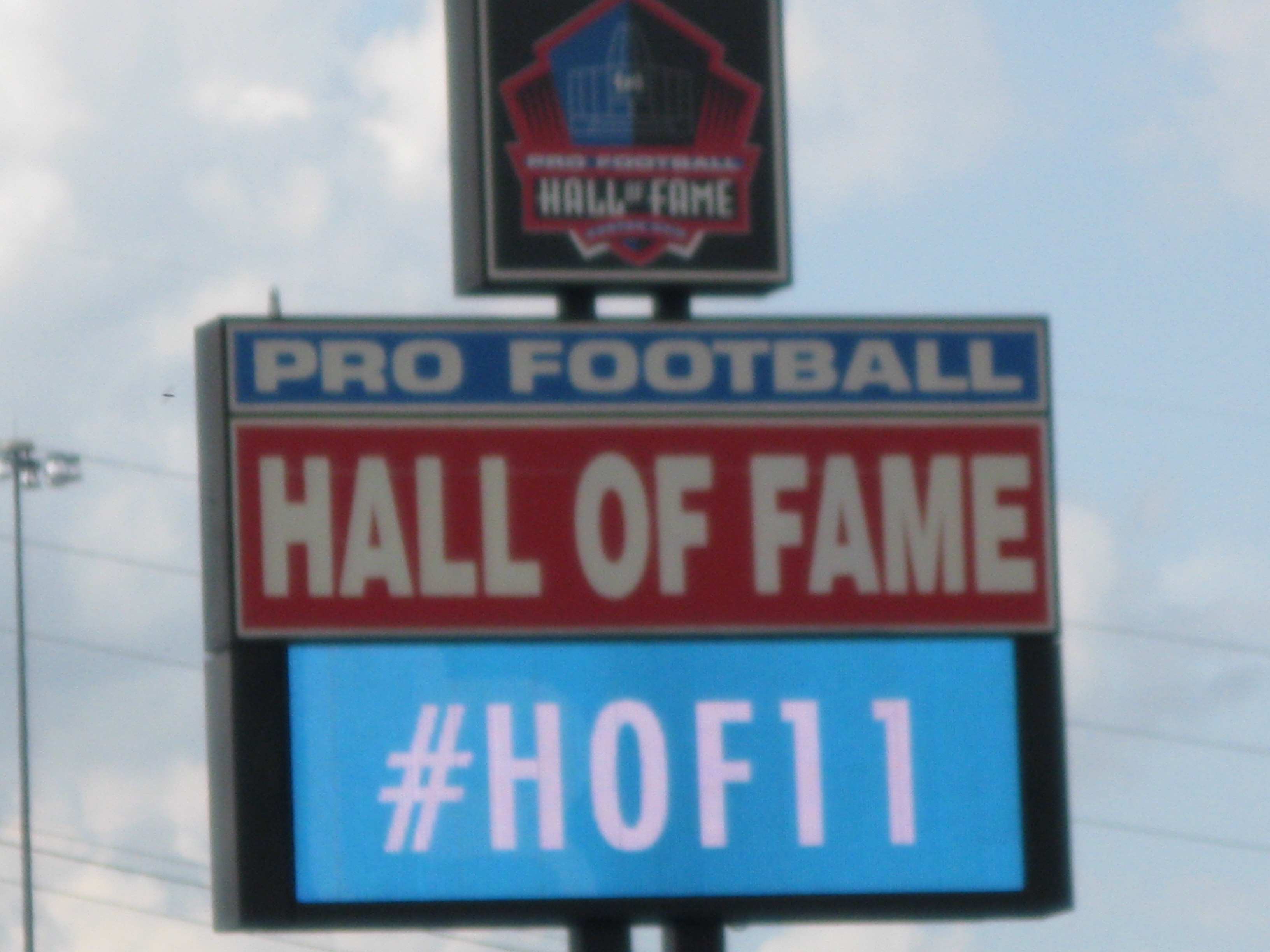 As I mentioned the other day, my daughter and I were in Ohio last week looking at colleges and made stops at two Halls of Fame. The story of our visit to the Rock and Roll Hall of Fame is here. The other one was the Pro Football Hall of Fame.
We weren't planning on going there, but on our drive south on I-77, we passed through Canton and there it was on the side of the road — the big round building with the giant football sticking out of the roof. We didn't have time to stop that day, but after the second college visit the following morning, we had to drive back to Cleveland for our flight home and, since we had a few hours to kill, I pulled off the interstate and headed for the massive concrete pigskin.
Our visit happened to coincide with the beginning of induction weekend at the Hall of Fame, when the Class of 2011 — Ed Sabol, Marshall Faulk, Richard Dent, Chris Hanburger, Les Richter, Shannon Sharpe, and Deion Sanders (without his Tinker Bell TV commercial outfit) — would arrive to make speeches, sign autographs, and see their busts installed. Fortunately, we were there on Thursday afternoon, before the crowds arrived, so it wasn't at all difficult to get around.
The Hall of Fame is directly adjacent to a residential community, and the locals were all ready for the visitors, with hand-scrawled signs offering to let you park on their lawn for $5 or buy a bottle of water or soda for $1. Not exactly a tailgate party, but if you're going to be overrun by out-of-towners once a year, you might as well take advantage of the opportunity.
My daughter, a non-football fan, wasn't particularly excited about this, but as a lifelong NFL fan, I found myself nearly giddy at spending a couple of hours inside, re-living stories about some of the guys I'd grown up watching and some I'd actually gotten to know during my years on the radio.
The front of the Hall of Fame has a longstanding exhibit about the history of football from its very beginnings, with some original uniforms and helmets on display, although calling them "helmets" is like calling a band-aid a "shoulder pad" — that's about how much protection they offered.
As we walked through the exhibits, I told my daughter stories about Bart Starr's plunge to win the Ice Bowl, John Facenda's booming voice on those early NFL Films documentaries, being taken by my father to see Joe Namath and the Jets practice at Hofstra University, standing in the shadow of Joe Jacoby (the Redskins lineman who was so big he blocked out the sun), and what it was like to attend two Super Bowls in the disparate climates of San Diego and Minneapolis. She remembered doing our private little touchdown dance every time Marshall Faulk scored for the Rams. We traced the history of the other football leagues (USFL, WFL, XFL) that couldn't compete with the NFL, watched spectacular highlight videos of inductees, and saw a montage of funny comments made by players and coaches who'd been miked up pre-game.
Deeper inside the museum, there's a large room with busts of all the Hall of Famers. I went through looking only at their names and trying to remember their teams and positions, doing better with the players from the 70s through 90s than I can today. When we got to legendary Pittsburgh Steelers running back Franco Harris, I told my daughter about interviewing him in 1988 and the picture someone took of us that made us look like brothers. She insisted that we take a new photo of me next to Franco's bust…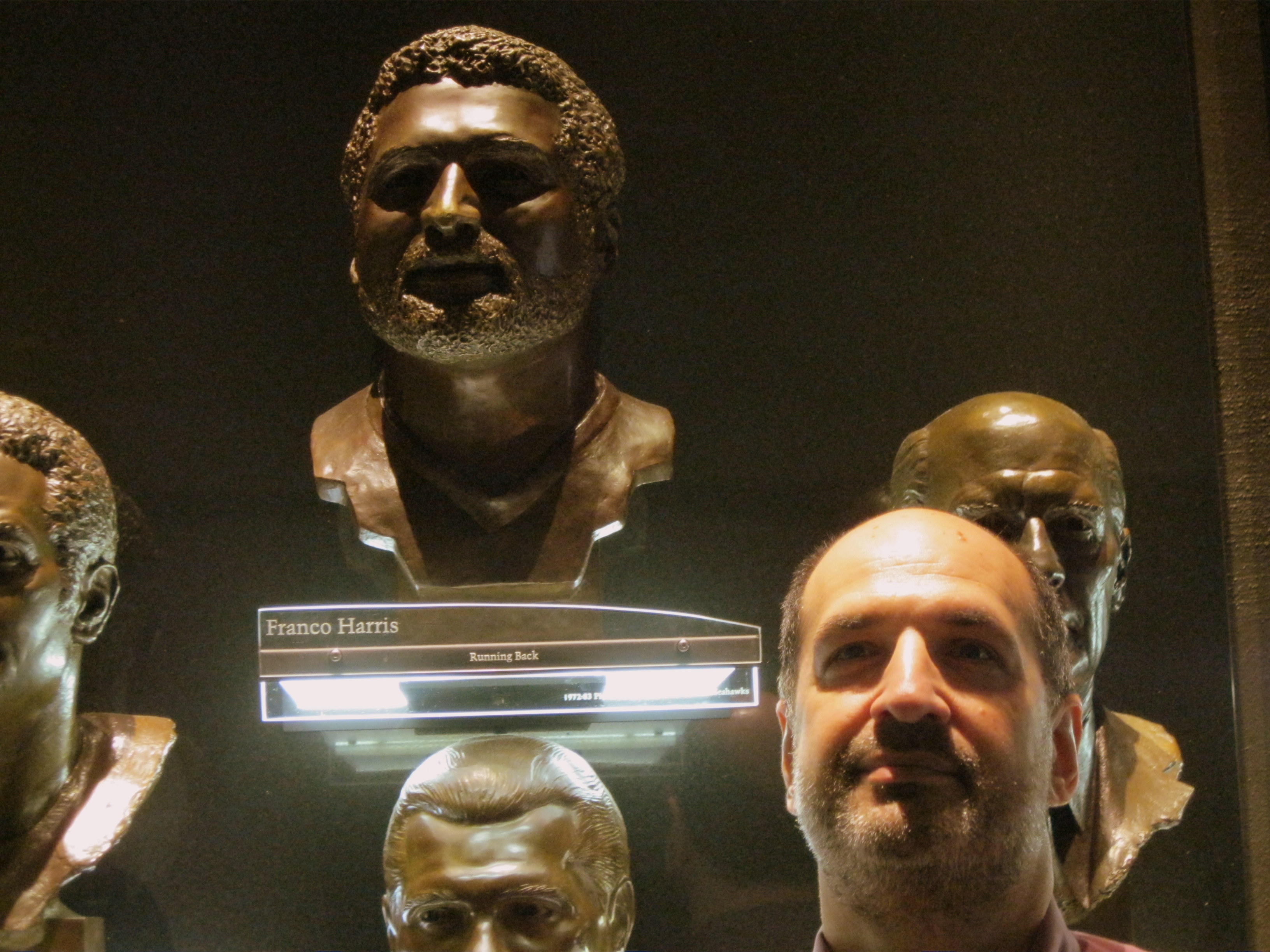 I think you'll agree that any resemblance that may have once existed is long gone — mostly because I'm not made of bronze, and the statue has more hair than both of us combined today.