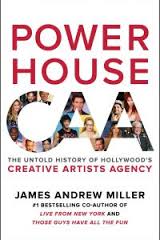 James Andrew Miller co-wrote oral histories of ESPN ("Those Guys Have All The Fun") and SNL ("Live From New York"). Now he's back with "Powerhouse: The Untold Story of Hollywood's Creative Artists Agency," an insider look at one of the top talent agencies in the world, which has clients in movies, television, music, sports — and even at Chipotle!
We discussed CAA's remarkable client list, how it was one of the first agencies to package stars/directors/writers/projects, and how it essentially invented the idea of getting gross points on the back end (except for its "Seinfeld" deal, which is an amazing story of hundreds of millions of dollars in lost commissions).
Miller shared some of the details he gleaned from David Letterman, Fleetwood Mac, and Tom Hanks, and how CAA's sports division now makes more money than any of its others through deals with athletes like Lebron James. We also touched on superagents Ari Emanuel and Michael Ovitz — the latter a central part of the CAA story who may qualify as the most power-hungry non-politician of all time.
Listen, then click here to subscribe to these podcasts via iTunes!
Previously on Harris Online…