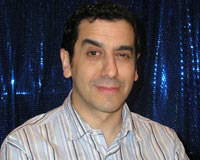 Today, I joked with comedian Jeff Cesario about Nicole Richie's hellish 82-minute stint in jail, the single day behind bars Linday Lohan has been sentenced to, and what Michael Vick's punishment should be. We also discussed subjects as varied as the Arena Football championship game you missed this weekend and how shaky the Iraq government is.
Listen, then click here to subscribe to these podcasts via iTunes!
I always kid Jeff about how well his DVD ("You Can Get A Hooker Tomorrow Night") is selling, but it's actually a very funny hour of his standup. You can through Jeff's website. There's more of Jeff's material at his sports parody site Sportalicious.com, too.