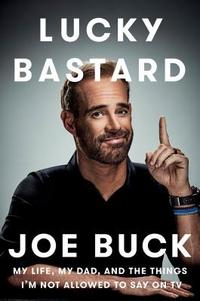 Joe Buck has done play-by-play for 19 World Series, several Super Bowls, and NFL games every Sunday, winning multiple Sports Emmy awards along the way. Now he's written about his life in "Lucky Bastard: My Life, My Dad, And The Things I'm Not Allowed To Say On TV."
Among the things he discussed on my show:

Why his Twitter page says "I love all teams EXCEPT yours."
Having grown up in Busch Stadium, how hard was it to say "The Cubs Win The World Series"?
What's different technically for him when calling a game compared to 10-20 years ago.
What he learned about the job of play-by-play man from watching his father, Jack Buck, in the booth.
Did he ever have an Albert Brooks sweating-so-much-it's-noticeable moment on the air?
How many beers did Mike Shannon consume during games they broadcast together?
He's done some play-by-play for the Fox series "Pitch" — does he think a woman will make it to the majors soon?
Listen, then click here to subscribe to these podcasts via iTunes!
Previously on Harris Online…