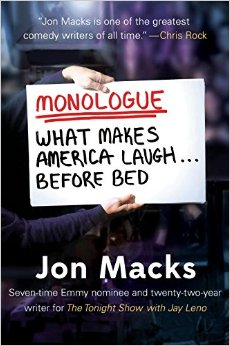 Over the course of 22 years, my friend Jon Macks wrote 500,000 jokes for Jay Leno to use on "The Tonight Show." He's also written for Billy Crystal, Chris Rock, Steve Martin and others who hosted the Academy Awards, as well as the Emmys, Tonys, Golden Globes, and pretty much any other awards show you can name. For several years, Jon was also a contributor to my radio show, doing a weekly segment in which he'd joke about the news, celebrities he'd run into, and more.
Now Jon has written a book about his experiences, "Monologue: What Makes America Laugh Before Bed," so he returned to my show for this extended interview. We talked about:

the process of writing, on average, 100 jokes a day;
whether jokes he wrote for Leno would have worked for Letterman, Fallon, and Kimmel;
what went wrong the night James Franco hosted the Oscars with Anne Hathaway;
what happened the night Arnold Schwarzenegger announced he was running for governor of California on Leno's show;
what went wrong with Leno's primetime show when he was booted off "The Tonight Show";
Letterman's long sad goodbye and how Leno wishes he's ended his 22-year run.
Listen, then click here to subscribe to these podcasts via iTunes!