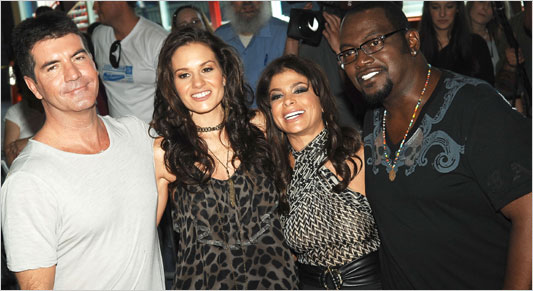 When "American Idol" announced it would have a new judge this season — songwriter Kara DioGuardi — a lot of people assumed it meant that Paula Abdul was close to being fired.
True, Abdul has had her bizarre moments over the previous seven seasons both on and off the show, and can be counted on to say something sappy and silly each week (and could she wear more clunky jewelry?), but she's not the least-necessary person on "Idol." That title belongs to Randy Jackson, who has somehow escaped the critics' wrath.
I don't care that he was the bass player in Journey for a few years, or that he's worked with Mariah Carey and other stars. As a TV personality and talent show judge, he's a cliche-ridden blob of nothing who hasn't said anything original in this century. His constant invoking of "dawg" and "pitchy" are long past worn out , and he has offered nothing new to replace them.
Case in point: on Tuesday, as the new season kicked off, the first singer was the typical "Idol" contestant train wreck — very little talent, no real voice, just part of the freak show that makes up the first few shows of every "Idol" season. When Randy was called upon for his opinion, here's what he said (verbatim!):
"I mean, I wasn't like, you know, I don't know if it was really, okay, whatever. Yeah, yeah, yeah, yeah. Uh, uh, it was wild, dude, it was definitely wild."
Wow, that's pretty insightful.
Meanwhile, new judge DioGuardi wasted no time offering her opinions, telling bad singers they stunk, being honest with people who weren't quite ready for the show, and encouraging those who can actually sing and will advance to the next round. She's no Simon Cowell, whose ear for musical talent and eye for making good television make him the prototypical judge, but DioGuardi is a worthwhile addition to the show and a good counterpart to both Cowell and Abdul.
Where does that leave Jackson? Uh, dude, you know, whatever.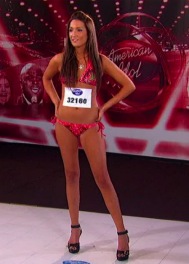 One last question: was Bikini Girl the first contestant in "Idol" history to come in with a purely visual appeal and leave with a golden ticket? There have been many through the years who tried wacky costumes or whack-job outfits, but none of them ever got the pass to Hollywood. Or am I forgetting someone?