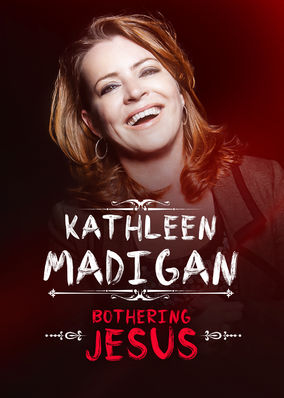 I am a big fan of Kathleen Madigan, having seen her perform many times and watched her career grow over 25 years in comedy. She has done four CDs, two DVDs, two HBO specials, two USO tours to Iraq and Afghanistan, three Comedy Central specials, five CMT "Salute to the Troops" specials with Ron White, and a Netflix special called "Madigan Again."
Now she has a new standup special for Netflix, "Bothering Jesus," and I was happy to have her back on my show to talk about it. Among the topics we touched on:

What it's like making comedy specials for Netflix.
What audiences in other cities think of her hometown (St. Louis) in the post-Ferguson era.
Why she refused to go on a cruise with Lewis Black.
How Lewis is handling the election of Donald Trump.
What it was like doing an episode of "Comedians In Cars Getting Coffee" with Jerry Seinfeld.
Whether family members have ever told her a story but added, "You can't talk about this on stage!"
The response she's gotten from Catholics about one of her bits in the special.
Listen, then click here to subscribe to these podcasts via iTunes!
Previously on Harris Online…