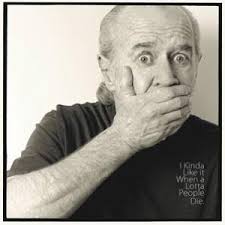 In the two days before 9/11/01, George Carlin was performing in Las Vegas and did a routine about how much he liked it when a lot of people die. It was supposed to be part of an HBO special to be broadcast live that November, but after the attacks on America, that bit wasn't released — until now.
With the release of a new CD, "I Kinda Like It When A Lotta People Die," containing that material and some other unheard stuff of his, I invited his daughter, Kelly Carlin, to discuss her father's work and legacy on my show. Last year, St. Martin's Press published Kelly's memoir, "A Carlin Home Companion: Growing Up With George," which comes out in paperback on October 18th.
Listen, then click here to subscribe to these podcasts via iTunes!