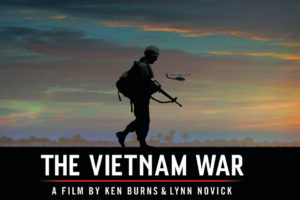 Here's my conversation with Ken Burns, whose new PBS documentary series, "The Vietnam War," will debut on September 17th. Among my questions:

Vietnam veterans don't like talking about the war — how did you get them to open up?
Was that because of how they were treated when they came home?
Do they look back on it as a waste? What about families of the 58,000+ soldiers who died?
We've been at war in Iraq and Afghanistan longer than we were in Vietnam, yet there's virtually no anti-war effort — is that because we don't have the draft?
How do the Vietnamese view the war, both those who were in it and later generations?
You interviewed former Viet Cong — was it hard to find them? Are they heroes in Vietnam?
How important was media coverage, putting the war in Americans' living rooms every evening?
Are we more polarized politically now than we were then?
Listen, then click here to subscribe to these podcasts via iTunes!