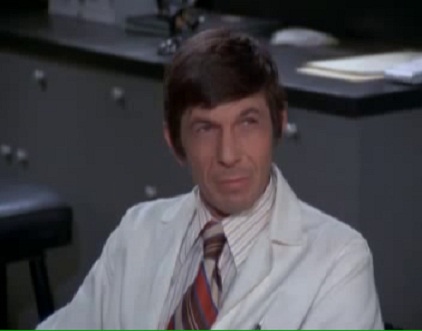 I was sad to hear of the death Friday of Leonard Nimoy, and not just for his years of playing Spock on television and through eight movies (and it's Mister Spock, not Doctor Spock — the latter was not a fictional Vulcan, but a real-life pediatrician who wrote the definitive baby book for the generation before "What Do Expect When You're Expecting").
While I liked him as Spock, and as Paris on "Mission: Impossible" from 1969 to 1971, my favorite Nimoy role was on a 1973 "Columbo" episode called "A Stitch In Time." Here's how it's described on Wikipedia:
Cardiac surgeon Dr. Barry Mayfield (Leonard Nimoy) and Dr. Edmund Hidemann (Will Geer) have pioneered a major medical breakthrough that Mayfield wants to publish immediately, but Hidemann wants to continue testing. When Dr. Hidemann has a heart attack and needs an emergency bypass, Mayfield performs the surgery and plans to kill his partner by placing dissolving sutures in his heart. After their nurse, Sharon Martin (Anne Francis), discovers the plot, Mayfield kills her, and stages a mugging to pin the crime on her drug addict ex-boyfriend.
That's a terrific murder mystery plot, and Nimoy was a perfect foil for Peter Falk as Lt. Columbo. You can stream it right now on Netflix.
Nimoy served my radio show well, never as a guest, but as a provider of punishment music for my Harris Challenge with his renditions of songs like "Proud Mary," "If I Had A Hammer," and "Put A Little Love In Your Heart." There were almost a dozen that I used many times over the years, and none of them would help convince you that he'd had quite a career in musicals like "The King and I," "Oliver," and "Fiddler On The Roof." It was only appropriate that I had one standing by for my most recent Harris Challenge on Friday.