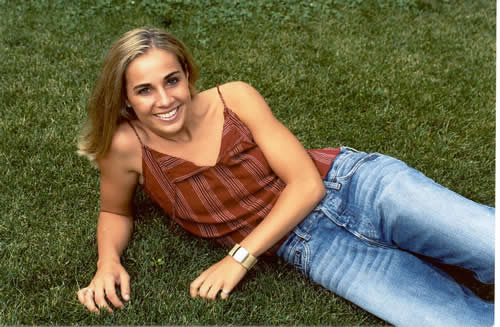 Amid all the Olympics hoopla, there's some controversy about an American basketball player named Becky Hammon. She's a four-time WNBA all-star who really wanted to play in the Olympics, but US coach Anne Donovan didn't choose her. So Hammon found another route.
In addition to being a point guard most of the year for San Antonio, Hammon also plays in a winter league for a team in Moscow (where's she's paid $500,000/year, not bad for a woman playing pro ball). Seeing an opportunity, she spoke with officials of the Russian Olympic squad who, recognizing her talents, gave her a spot on the team on the condition that she become a Russian citizen. When Hammon agreed, they promised her a $200,000 bonus if the team wins the gold.
Back home, Donovan wasn't happy to hear that Hammon would be playing for the Russians. With Cold War bitterness in her voice, she proclaimed Hammon a traitor: "If you play in this country, live in this country, and you grow up in the heartland, and you put on a Russian uniform, you are not a patriotic person, in my mind."
Hammon responded that she's playing well within the rules, that this happens all the time, and just wants to play basketball. Ironically, this is going down at the same time Russia is involved in an ugly real-world border war in Georgia, but don't lay that at Hammon's feet. She's right, and Donovan should be ashamed.
There are 39 foreign-born athletes on the US Olympic team. The man who carried the Stars & Stripes Friday night at the Opening Ceremonies was Lopez Lomong, who has been a US citizen for all of 13 months. As one of the Lost Boys of Sudan, his is an inspirational story, a kid whose family was torn apart by the violence in his homeland, who escaped confinement, made it to a refugee camp in Kenya, and finally to the US under a program to relocate children from his war-torn nation.
Eight years ago, Lomong didn't even know what the Olympics were until friends at the refugee camp ran five miles with him to watch the 2000 games on a black-and-white TV with a fuzzy picture. When he saw Michael Johnson win gold in the 400, Lomong decided he wanted to be an Olympic runner. Now he'll run the 1,500 meters for the US. The other two runners on that squad are also recently naturalized citizens on that squad — Bernard Lagat of Kenya and Leo Manzano of Mexico.
We're a long way from Al Michaels asking, "Do you believe in miracles?" as the American hockey team beat the Soviets in 1980. Although websites and news outlets will continue to report the medal count by country, those international borders mean less than ever.
Will Houston Rockets fans root against Yao Ming just because he's the center of the Chinese team? Will Chinese fans boo Wang Chen, who was born in Beijing but now plays ping-pong for the US?
Aside from the highly partisan world of international soccer (where even David Beckham now plays for an American team), the same questions can be asked in other sports. Did it matter that Ichiro was from Japan, or Sammy Sosa from the Dominican Republic, or Wayne Gretzky was Canadian?
With her old-school notion of patriotic competition, the state of world sports has passed Anne Donovan by. These contests are about individual achievement, not nation vs. nation. Sure, they still play your national anthem and raise your flag when you win, but you don't have to be an American to recognize Michael Phelps' greatness in the pool, or that of other athletes at their best.
Of course, what the Olympic Games are really about is the bottom line — for the advertisers, the broadcasters, the host city trying to drum up business and tourism, and yes, the participants who want lucrative endorsement deals and contracts.
There's the real international language: money.