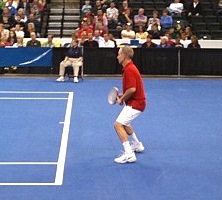 Last night, we went to an exhibition tennis match between John McEnroe and Jim Courier, who put on quite a show.
The crowd obviously came to see McEnroe, expecting at least one rant about a missed line call. They got that rant quickly, but it was from Courier, the victim of two bad calls in the first two games, who was not hesitant in expressing his displeasure with both the linesman and the woman in the umpire chair. After the second outburst, McEnroe jokingly asked the umpire, "Can you tell him to stop whining and complaining?"
It didn't take long for McEnroe to offer his own complaints, first at the number of balls they were using (stray balls went into the crowd often and didn't come back), and then at a horribly missed call on the end line that would have decided a game. Of course, he tossed in his trademark line, "You can not be serious!!" to add to the show, but it was clear he wasn't happy.
The umpire did a horrible job, missing several chances to overturn bad calls by the lines-people. At one point, McEnroe hit a cross-court shot that was right on the line, a fact that was obvious to everyone in the building except the lineswoman who called it out — and the umpire who didn't overrule. That set off McEnroe again, asking her if she knew that the lines counted as "in" not "out," as Courier smiled and casually placed a ball on the line exactly where the shot had landed.
Nonetheless, both players gave it their all and put on a competitive match for a couple of hours. It was clear that these two guys were friendly, but that didn't stop them from going at it pretty hard. They're both ultra-competitive — you don't rack up as many titles as they did without that drive — yet knew they had to put on a good show for the crowd. They tossed their rackets, kidded around with people in the stands, and didn't make me throw back a ball that came flying up off a McEnroe mis-hit, which I promptly gave to my daughter.
After Courier won the match in a third-set tie-breaker, he and McEnroe were joined by two young female college players for three games of mixed doubles, where the participants were miked up and the ex-pros really turned up the showmanship. Courier, in particular, joked around a lot, tried to give the women lots of opportunities, and hit a couple of goofy show-off shots.
At one point, before serving, he asked his partner to give him a signal about where to hit the ball. She showed him a sign behind her back, and he said, "Wait, I don't know what that means." Smiling, she called him over and whispered something, to which Courier replied "Oh, serve it up the middle, okay." The crowd laughed, as we could all hear every word. When he and his partner won the match, he talked her into executing a Bryan-Brothers-style chest-bump, although he politely turned his body so as not to hurt her.
Next, two young male college players joined Courier and McEnroe for another exhibition. After one exchange where McEnroe's partner hit three volleys right at Courier, who returned each of them right back to him, McEnroe suggested hitting the ball at the other (less-experienced) opponent instead.
It was the kind of quick comment that makes McEnroe so good on television, where his commentary on grand slam tennis events has elevated him to the highest ranks of sports analysts. There is no one better at giving viewers insight into the strategy of a sporting event in progress than John McEnroe. He'll prove that again in a couple of months when Wimbledon begins.
Disappointingly, the Family Arena was mostly empty, with only a couple thousand people in the seats. It would have been nice to have a bigger turnout. Still, it was fun to witness a combination of the new and old Johnny Mac plus the still-hard-hitting Courier in action.