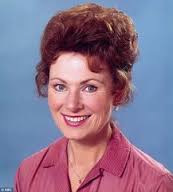 Marion Ross is arguably the most famous mom in TV history.
On my radio show, I talked with her about some of the roles she's played on more than 700+ TV episodes, from Mrs. Cunningham on "Happy Days" to Sophie on "Brooklyn Bridge" to Beulah on "The Drew Carey Show." She told stories about working with Cary Grant and Tony Curtis on the movie "Operation Petticoat," explained the genesis of "Happy Days" and her relationship with Henry Winkler, reminisced about appearing on "Politically Incorrect" with Bill Maher, and defined the difference in acting for movies and television.
Listen, then click here to subscribe to these podcasts via iTunes!