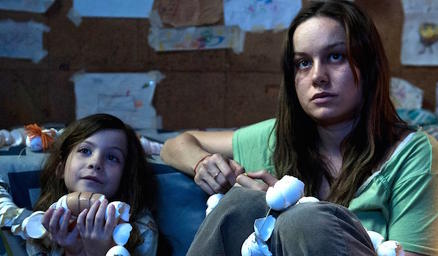 "Room" is one of this year's most remarkable movies. It stars Brie Larson as a woman trapped in a 10′ x 10′ room, where she has been held captive for seven years. She shares the room with her son Jack (Jason Tremblay), who celebrates his fifth birthday as the movie begins. I use the word "celebrate" advisedly, because there wouldn't seem to be much to celebrate in a situation like that. The fact that she's had the boy since being put in that room tells you a lot.
Yet the story is not about the brutality of their situation. Rather, it is about the love this woman has for her son, and her efforts to make his life as normal as she can. Their only view is up through a skylight, where they occasionally see clouds, rain, and snow. Jack has no knowledge of the world outside their four walls — other than on a small portable TV, which he may be entertained by, but doesn't quite understand yet — but since he's now old enough to ask questions, she has to figure out what to tell him and what to do.
I will not say another word about the plot of "Room," but I will warn you that you should not see the trailer, because it contains serious spoilers. This has been the common problem with movie trailers for a long time. They are not supposed to be a synopsis of the entire story. They should be nothing more than a tease, telling you just enough to make you want to see the movie, but without revealing all the important plot points. "Room" is one of many movies whose viewing experience will be ruined if you know too much ahead of time.
So I'll only tell you that the performances by Larson and Tremblay are terrific, the script by Emma Donoghue is tight and taut — like "Gone Girl" last year, it matters that the woman who wrote the novel also did the screenplay — and the direction by Lenny Abrahmson cleverly balances the desperation of the situation with the closeness of the mother-and-child relationship.
"Room" is one of the best movies of 2015. On my radio show, I gave it 8.5 out of 10, but after thinking about it further, I'm upgrading that to 9 out of 10.